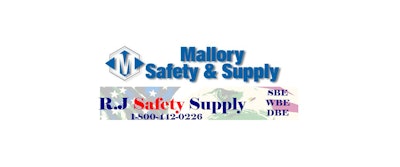 PORTLAND, OR — Mallory Safety and Supply, an independent, privately held safety and industrial supply distributor, recently announced it has acquired the assets of RJ Safety Supply Co. of San Diego, CA. This follows closely on the heels of Mallory's acquisition of Sanderson Safety in October, 2015 and is Mallory's 14th acquisition in the last 11 years.
"Mallory is honestly the perfect fit for our employees and customers," said RJ Safety president Tifani Swink. "They have greatly expanded our product lines and technical safety service offerings, have given us a world class vending solution with Snapvend and are have breathed new life and energy into our business with their ability to serve even the largest of customers with complex supply chain solutions. We think the southern California market is screaming for a full-service safety distributor like Mallory and are confident we are going to enjoy great success on the Mallory Team."
Mallory has approximately 265 employees across its 15 locations in Washington, Oregon, California, Idaho, Nevada and Wisconsin. It has acquired several industrial and MRO supply distributors in addition to carrying a broad array of abrasives, cutting tools and construction supplies.
RJ Safety has locations in both San Diego and Brawley, CA and is immediately operating as Mallory Safety and Supply.
"San Diego is a great place to do business — and especially nice to visit during our rainy months in the Pacific Northwest, with several customer types that we are well-positioned to assist with, from construction, to manufacturing, to government and energy," satated Mallory president Tim Loy. "The RJ Safety team has exactly the passion and experience that we look for in an acquisition. We needed talent to expand our southern California presence. I think the RJ team needed a broader product and service offering, a vending solution and the benefits of a little more scale. I'm glad we found each other."