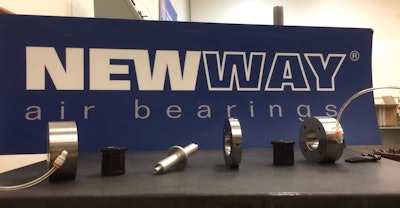 ASTON, PA — New Way Air Bearings of Aston, PA recently announced it has acquired the assets of Bently Pressurized Bearing Company of Minden, NV.
New Way Air Bearings has 25 years of experience manufacturing air bearings, which are used by the machine tool, semiconductor and medical industries.
New Way hopes to expand upon the work of Don Bently, former owner of Bently Nevada and Bently Pressurized Bearing Company. Don passed away on Oct. 1, 2012. Don Bently is best known for developing eddy current probes and rotor dynamic theory. Less are aware that Don thought his externally pressurized bearing technology would be every bit as important as the Eddy current probe in the future evolution of turbo equipment. After spending a lifetime of studying rotor instabilities he was keen to develop techniques to actively control instabilities. Bently demonstrated that by changing input pressure, and hence the stiffness of his bearings, the natural frequency of the rotor system could be tuned away from instabilities, from outside the machine.
Drew Devitt, founder and chairman of New Way Air Bearings shares Don's enthusiaum; "With New Way's gas bearing technology we have overcome the limitations of the orifice technology he was using and believe that we make his dream a reality," Devitt said.
New Way will be exhibiting externally pressurized gas bearing and seal technology in booth 3005 at the Turbo Symposium this Sept. 13-15 in Houston TX.