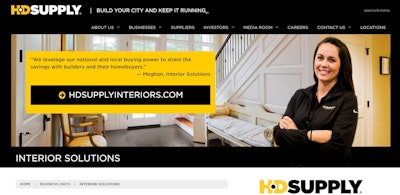 HD Supply is slimming down even further.
After divesting its Hardware segment to Home Depot in December 2014 and its Power Solutions segment in Q3 2015 to Anixter in an $825 million deal, HD Supply on Wednesday announced it has agreed to sell its Interior Business Solutions segment to Carlsbad, CA-based Interior Specialists Inc.
Terms were not released for the transaction, which is expected to close during HD Supply's fiscal 2016 second quarter.
Once completed, the divestment will leave HD Supply with four business segments:
Facilities Maintenance
Construction & Industrial - White Cap
Home Improvement Solutions
Waterworks
Established in 1982, Interior Specialists Inc. is a provider of interior design, design center management and installation services, with more than 90 design centers across the U.S. It is owned by Littlejohn & Co., a middle-market private equity investor.
"This acquisition is another step in our mission of becoming the preeminent national provider of design center services, delivering consistent, industry-leading process, execution and technology to homebuilders across the country," said ISI CEO Alan Davenport. "HDIS will expand our national footprint in key markets and augments our infrastructure of labor and talent as we rapidly roll out new, state-of-the-art design centers for our customers nationally."
HD Supply did not comment about the divestment in its Wednesday release.