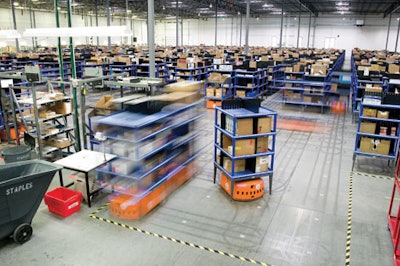 SEATTLE (AP) — Amazon.com Inc. has agreed to buy Kiva Systems, which makes robots and software to help companies fulfill orders, for $775 million in cash.
Privately held Kiva says its technology helps companies lower costs and simplify orders and shipping operations. The North Reading, Mass., company's customers include Staples, the Gap and Crate and Barrel.
Amazon said it has been using automation in its order fulfillment centers for a long time.
"Kiva's technology is another way to improve productivity by bringing the products directly to employees to pick, pack and stow," said Dave Clark, vice president of global customer fulfillment, in a statement.
The deal has been approved by Kiva's shareholders and is expected to close in the second quarter.