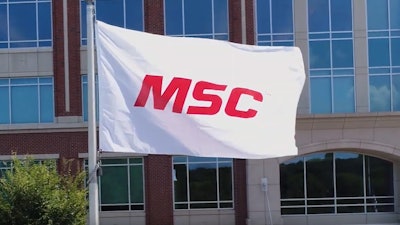 In the first week of 2023, as many were still attempting to shake off the holiday season, one of North America's leading industrial suppliers announced results from the first quarter of its new fiscal year.
MSC Industrial Supply executives highlighted a strong start to fiscal 2023 – sales, earnings and profits were all up year-over-year despite a "complex" operating environment – as well as detailed some of the distributor's priorities for the rest of the year.
In particular, the Long Island-based company – no. 7 on ID's latest Big 50 list of top industrial distributors – mentioned the addition of more "tuck-in" acquisitions as a goal, and officials reiterated their emphasis on the metalworking sector.
"Our expertise in metalworking remains the cornerstone of our value proposition," MSC President and CEO Erik Gershwind said during the company's early January earnings call, citing the company's "product portfolio, our large network of technical metalworking experts and our focus on innovation as a tool to elevate productivity and lower cost for customers."
Less than a week later, MSC would address both fronts.
After acquiring Wisconsin metalworking distributor Engman-Taylor and fellow Long Island company Tower Fasteners last summer, MSC announced its purchase of Buckeye Industrial Supply, a longtime Ohio distributor of cutting tools and MRO supplies with locations in Columbus and Cincinnati. But the deal included another interesting addition for MSC, as well.
Buckeye's owners also own Tru-Edge Grinding, a re-grind shop founded in the small village of St. Henry, Ohio, in 1996. As cutter tool grinding steadily became its own service sector – and through its links to Buckeye – Tru-Edge grew into a larger manufacturing and re-grinding facility in St. Henry and a tool repair shop in Dayton. In addition to reconditioned cutting tools, the company provides tool manufacturing, tool life management programs, PVD coatings and other services.
MSC officials said the company specializes in designing and producing tools from scratch, primarily for the automotive and medical sectors, although Tru-Edge said its customers can also be found in aerospace, food service, mining and woodworking.
MSC highlighted the "new capabilities" that Tru-Edge would bring. In addition to complementing MSC's existing re-grinding businesses, Tru-Edge – which will continue to operate under its own name – will become MSC's "center for excellence" for engineering and design.
"We are looking forward to combining our metalworking expertise with MSC's to bring even greater value and success to manufacturing customers," Rick Meizlish, a principal at Buckeye and Tru-Edge, said in the announcement.
Manufacturing segments – metals, in particular – continue to show signs of strength amid broad inflation and efforts by central banks around the world to combat it with interest rate hikes. The U.S. Cutting Tool Institute and the Association for Manufacturing Technology found that U.S. manufacturers purchased $2.2 billion worth of cutting tools in 2022, up more than 10% compared to the previous year despite a pair of month-over-month declines to wrap up the calendar year.
The AMT also reported that although orders for metalworking machinery were off again in the first month of the new year, they remained above historical norms for January — and officials suggested that "a mild slowdown" could actually help by reducing backlogs.
Gershwind, MSC's chief executive, said during the earnings call that the metalworking sector appeared to be mirroring the distributor's broader customer base: softening in some areas, but not "dropping like a rock" — even showing signs of strength, particularly in aerospace manufacturing and the oil and gas sector.
"If you take some of the end markets that drive metalworking consumption, several of them have been really beat up during COVID," Gershwind said.
"And so, they still have room to grow."