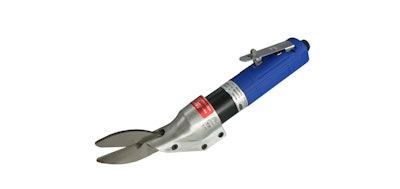 CINCINNATI, OH — Kett Tool Company introduces the P-2080 Scissor Shear, a lightweight shear featuring a straight-handled body design for maximum maneuverability when making cuts in thick, soft materials. Professionals working in the construction, hardware and industrial machinery industries will appreciate the power and convenience of the P-2080 to get projects completed efficiently, thanks to the variable speed motor that allows you to control speeds from 0 to 2500 RPMs.
Requiring only a 90 PSI air source, Kett's Scissor Shears offer an outstanding combination of cutting performance and lightweight design. At only 12.25 inches long and weighing just four pounds, the P-2080 is truly compact and portable. The convenient design provides the versatility to work in close quarters while maintaining comfort and control, while the high speed means faster cutting to get jobs done in less time.
The stationary bottom blade and large "rabbit ear" blades of the P-2080 easily cut through pliable materials such as vinyl, woven woods, chipboard, carpet, carpet underlayment, foam rubber, linoleum, heavy foil, hardware cloth and light mesh screening. All shear heads are precision-made in the U.S. featuring A-2 tool steel blades for prolonged durability.
The P-2080 Scissor Shears are available through authorized dealers. For more information or to locate a dealer, call 513-271-0333.