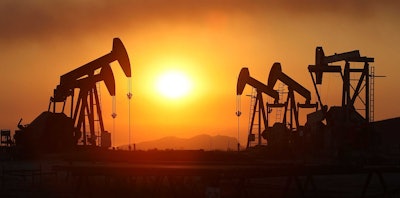 Houston oilfield services company Baker Hughes on Friday said the count for U.S. rigs actively exploring for oil remained unchanged from last week at 406, snapping eight straight weeks of gains.
One year ago, 675 U.S. oil rigs were active. The count is down 75 percent from a peak of 1,609 in October 2014.
The U.S. gas rigs decreased by two this past week to 81, compared to 202 active gas rigs a year ago.
Pennslyvania gained two rigs and Wyoming gained one. Colorado, Louisiana, Ohio, Texas and West Virginia each declined by one. The unchanged states were Alaska, Arkansas, California, Kansas, New Mexico, North Dakota, Oklahoma and Utah.
Canada gained 19 oil rigs this past week and six gas rigs, raising their respective counts to 84 and 62. A year ago, Canada had 88 oil rigs and 108 gas rigs.
Oil price update
WTI Crude oil closed Friday at $47.33 per barrel, down from $49.11 on Aug. 19 but up from $40.84 on Aug. 1.