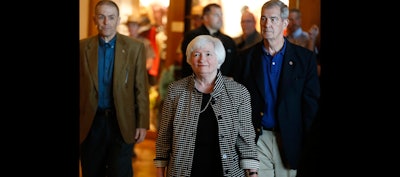 The chair of the Federal Reserve told bankers in a speech late last week that the case for an interest rate increase "has strengthened in recent months."
Janet Yellen was largely optimistic about the U.S. economy, according to the Associated Press, but did not indicate when the Fed would seek to hike rates for just the second time since the Great Recession.
The Fed raised rates in December from historic lows put in place during the recession, but plans for subsequent increases were delayed amid a series of economic uncertainties.
Yellen, however, told the conference in Jackson Hole, WY, that those conditions appeared to be changing. She cited robust employment, strong consumer spending and relatively healthy inflation.
Analysts speculated that the Fed could move to raise rates as soon as its next policy meeting next month, but others suggested that the bank was more likely to take time to prepare investors in advance of a December increase.