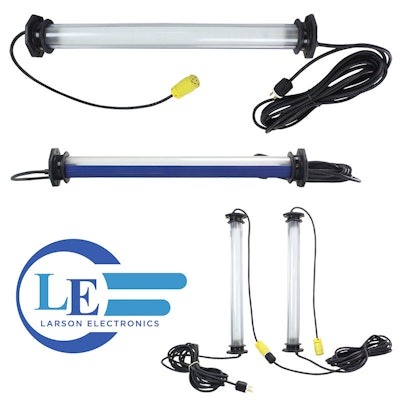 Industrial lighting specialist Larson Electronics has announced the release of a 25 watt LED handheld trouble light that is vapor proof, food safe, and approved for damp locations.
The VPHLED-12W-25 work light from Larson Electronics produces four times as much illumination as a comparable bi-axial fluorescent bulb, making it a more powerful and durable alternative to incandescent and fluorescent work lights. A food safe polycarbonate lens provides durable protection for the powerful LED assembly. The end caps on this unit are rubber coated to provide secure handling and protection against impacts and vibrations. Each end cap has four holes allowing for hooks, chains, or ties to be attached to the light for hanging the light and hands free operation. This LED light is safe for use in damp areas and is sealed against intrusion of vapors. This unit is designed for daisy chain connections, with a male 5-15P cord cap on one end and a female 5-15C cord cap on the other. 25' of 16/3 SJOW cable is provided for line in cable, and 3' for line out cable. Operators can connect up to thirty units end-to-end on a single 10 amp circuit. The 50,000 hour operating life and cool operation of the LEDs, rugged aluminum housing, polycarbonate lens, and high output of this lamp make it an ideal work light for operators looking to upgrade from fragile fluorescent and hot running incandescent work lights. This LED work light will outlast incandescent and fluorescent lamps, has none of the high heat that can cause burns from accidental contact, and does not require a ballast to operate. These features, in combination with its' high light output, results in a work light that out performs traditional hand lamps by every measure.
"This vapor proof LED work light measures twenty-four inches in length and is designed to be daisy chained in order to achieve more light output where needed," said Rob Bresnahan with Larsonelectronics.com. "This work light produces 2,800 lumens of bright, white light while drawing only 25 watt of power."
Larson Electronics specializes in portable industrial lighting equipment, high mast light towers, explosion proof light fixtures, power distribution systems, LED lighting and more. To view their wide range of products, visit them on the web at Larsonelectronics.com or call 1-800-369-6671 for more information. Larson Electronics will be attending the 2016 OTC show in Houston, Texas from May 2nd to May 5th. Visit them at booth 6716 to inquire about their lighting solutions for many industrial applications.