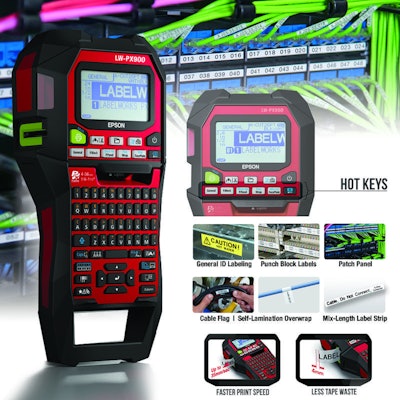 Experience the Next Generation of Industrial Labeling Solutions that is Wider, Faster, Easier & Better: The LABELWORKS™ PX LW-PX900 from Epson & K-Sun

K-Sun® Corp., a leader in industrial identification and labeling solutions, introduces the next generation of economical, multi-industry label, heat-shrink tube and bar-code printers—the LW-PX900.
K-Sun and Epson co-developed this rugged, portable and PC-compatible thermal transfer printer by creating exclusive smart features based on user feedback—from the warehouse and facility floor to fieldwork and mobile offices.
Leading the industry with a lifetime warranty, the LW-PX900 is designed for safety/compliance, IT/electrical installation standards, quality improvement and 5S/lean/visual workplace labeling.
Exclusive smart features include:
•Drop-Stop holds a label after it is cut so it won't drop out of the printer. This feature works with a single label or with the Pick & Print mode for a series of labels.
•Pick & Print automatically pauses after printing and cutting the first label in a series and resumes printing/cutting when the label is removed, eliminating the need to continuously type and print labels.
•Mixed-Length lets the user create a strip of variable-length labels with a half-cut for easy removal and application, significantly reducing tape waste.
Removable magnetic feet allow the printer to mount on a metal surface to free up your hands for better productivity.
Additional tape-saving features include a reduced lead margin of 4mm* and adjustable left/right margins down to 1mm. Industry-specific hot keys simplify template selection for wire wraps, patch panels, face plates and punch blocks.
The LW-PX900's 360-dpi, high speed printing produces highly visible and detailed single, continuous and die-cut labels. Easily add bar codes, and print wire flags, cable overwraps and heat shrink tube. Other features include alphanumeric sequencing, auto-repeat, auto-cut, 13 languages and a 99-file printer memory.
PC-based models include the versatile Label Editor Professional software with data import capabilities, 15 bar codes (including QR), 1,000+ industrial symbol library and nine industry catalogs with hundreds of label/sign templates.
The LW-PX900 uses PX Tape, which has more tape per cartridge and is available in hundreds of types, sizes and colors, including magnetic, fluorescent, photoluminescent, heat shrink tubing and more.
The only label printer an entire facility will ever need is made of industrial grade, high-impact plastic that meets MIL-STD 810 "drop" test specifications. An integral handle offers portability, and front-loading cartridges make supply changes fast and easy.
For more information contact: K-Sun, 370 SMC Drive, Somerset, WI 54025, 800-622-6312; email: [email protected]; or visit: www.ksun.com.
# # #
*On industrial tape supplies. Specialty tape supply margin lengths may vary.