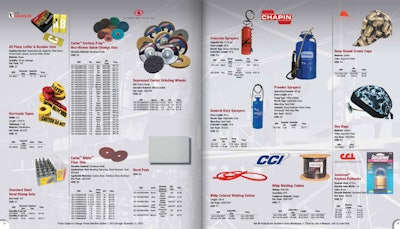 Let's lay it out on the table. You have seven 1,000-page catalogs with 1 million SKUs each. You're wondering how on earth you're going to digitize all of the information. Take a breath. It can be done.
Catalogs are often neglected for months and years at a time. They are difficult and costly to update much less the effort and organization required to bring them online. But B2B distributors and manufacturers that are looking to exceed the competition and bring their customers greater conveniences via a valuable digital experience understand that digitizing their catalog is critical to success.
Free Whitepaper: Next Level E-Commerce for Safety Suppliers
Don't forget that your B2B stakeholders (when not at work) are consumers. The more they experience the conveniences of their favorite B2C brands or have an easier time finding your competitors' products, the more they are going to expect from you.
So, where do you start?
Distributing and manufacturing companies need a master data strategy when it comes to their catalog. Catalog migration is one of the single greatest problems in eCommerce implementations we see. Making it a priority and setting the groundwork for your organization to scale will take some effort in the front-end but doing that will ensure long-term success and a better experience for your customers.
Here are 6 steps that will enable you to make this monumental task more manageable:
No shortcuts – Do not cut and paste data from your enterprise resource planning (ERP) system. If you do, the customer experience will fall flat on its face. Most ERP systems capture only base raw data and lack the more technical attribution or enriched product descriptions and naming conventions. While some stakeholders may recognize your unique naming conventions because they have worked with you long enough to know, the majority will not. The way you identify your products needs to change so that product searches are quick and painless for your customers.
Define the "what" – Get a read on the current state of your data. Conduct a base analysis so that you can see what attributes are missing and what you want to capture moving forward for all channels digital and not. Then, make the necessary foundational changes to start being able to capture this information in the future.
Scrub the data for consistency – Once you have a base attribution defined, cleanse your data. Look at how your data is described: do you use fractions and decimals for dimensions? Do you have different naming conventions or punctuation for the same information? Create consistency and get rid of duplication across categories. The ease by which a customer and/or partner browses and filters data will depend on this step. Make it count!
Enrich the data in your PIM – Don't try to enrich your data in the ERP system. You will be limited by system restrictions for what you want in a digital user experience. You will also end up enriching the data multiple times based on where you distribute the data (see right). Companies need to leverage the ERP as the foundation to all master data but allow the workflows and enrichment to occur in a system designed to scale around multiple catalog needs.

The Product Information Management system or PIM, when structured appropriately, should allow for easier management and classification by your business users to make ongoing management more streamlined.

PIM is a data repository that enables you to extract and propagate data to and from different sources. Once the data is in the PIM, then you can enrich it, translate and/or categorize it, then push it out to partners, customers and the like. A PIM enables you to get the data and its delivery right first before you focus on the user experience.
Prioritize – Digitizing your catalog should be an iterative process. Identify which products are most important to your business. Get those products to market first before moving onto the next few thousand products.

I once worked with a manufacturer in the Chicagoland area that wanted to digitize their business and scale globally. Rather than move right into an eCommerce implementation, we took a step-by-step approach. We analyzed the needs and gaps in their systems, then started with a PIM-first approach that allowed them to maximize internal resources without over taxing them. We laid the foundational elements in the PIM with attribution and classification systems, then added a basic workflow.

When it was time to enter product information into the system, we started with 32,000 products in the first wave and 16,000 in the second wave. The iterative process enabled the company to make the necessary enhancements to the information before full implementation of the eCommerce system. Taking the time to follow the right steps enabled the company to achieve its goals efficiently without mishaps along the way.
Test – Once you get the first few thousand products within the PIM, set up testing mechanisms to ensure the user experience is up to par. Do basic user testing before investing significant hours into the reorganization and ask your partners and your partners' customers if they can access the information easily. Collect feedback and make the necessary adjustments before rolling out the next wave of products.
Companies need to take the time to build the logic behind the digitization process before moving the data online. While developing a strategy, figure out what kind of an experience you want to create for customers and partners (based on your knowledge of their wants and needs or direct user testing). Work backwards and enrich the data as necessary. With a cohesive and well-organized plan, you should be able to enrich your digital experience and streamline your time to market.
Liz Duggan is e-commerce director at Siteworx, a digital experience agency. She has led B2B and B2C implementations for such companies as J.C. Penney, Baleigh Industrial, World Vision and AGCO. Follow Siteworx on Twitter at @Siteworx.