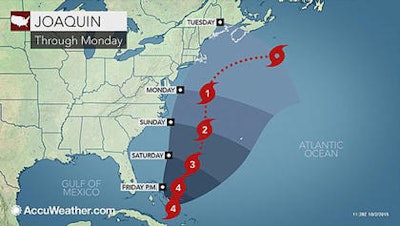 If there's one thing that Hurricane Sandy taught the wholesale distribution industry, it's that even those best-prepared for natural disasters can still find themselves at a major loss in the aftermath.
Weather services are currently tracking another hurricane — Joaquin — that looks to have potentially serious impact on East Coast. On Friday morning, AccuWeather reported that the region from South Carolina to Massachusetts is set to face very heavy rainfall totals this weekend through early next week, even though the hurricane appears it won't make landfall.
"We're looking at historic flooding in coastal South Carolina," said CNN meteorologist Rachel Aissen Friday morning. "Ten to 15 inches of rain is expected."
Distribution Business Lessons From Severe Weather
The Weather Channel said Friday that even though Joaquin is forecasted to remain well offshore, heavy rainfall along the Atlantic Seaboard and Appalachians is still expected.
"Regardless of the ultimate outcome of Joaquin's path, portions of the East Coast states will still see multiple impacts from the evolving large-scale weather pattern, including flooding rainfall, coastal flooding, high surf, beach erosion, and gusty winds," The Weather Channel said. "These threats will extend well inland from the Atlantic coast."
Free Webinar: The Top Distribution Trends Coming in 2015
Joaquin – still making its way through the Bahamas early Friday – reached Category 3 status late Wednesday evening and upgraded to Category 4 status Thursday afternoon.
Governors in Virginia, New Jersey and North Carolina have already issued a State of Emergency.
On Thursday, AccuWeather was tracking Hurricane Joaquin to make U.S. landfall in North Carolina on Sunday, but its Friday morning forecast joined a consensus of others tracking it further East out to sea. Still, no one is ruling out the possibility the storm could shift back toward the coast.
"We're at the point we still need to stay aware," CNN's Aissen said. "It could still shift."
Aissen said if Joaquin hasn't made its move by Friday evening, it will stay out at sea.
In 2012, Hurricane Sandy caused damage to more than 300,000 business properties.
Many of those businesses were distributors. And for those distributors in the region that didn't sustain damage, most were still effected in some way by the storm's logistical impacts. Shipments were delayed and lost, and internal functions were disrupted by power outages. More than 8.5 million customers lost power due to Sandy.
In an article posted written for IndDist.com in April, Dotcom Distribution executive vice president Vic Ricci commented on what the New Jersey-based logistics faced in Sandy's aftermath:
"Although we knew that the hurricane was coming, and had generators to keep parts of our facility operational, we could not circumvent larger community issues such as power outages, road closures, or employee evacuations," Ricci said. "Our greatest strength was an ability to be proactive rather than reactive. As a team we moved forward together, with the entire staff pitching in to handle orders to prepare full operation when the roads cleared. Even the management team helped out on the distribution line, supplementing employees who were unable to commute. Just as our larger community worked together to survive the hurricane, it was our business' teamwork that helped us avoid severe lags in production."
Related: Four Key Areas For Successful Disaster Recovery Plans
In a post-Sandy article on CleanLink.com from April 2013, Jan/San distributors shared how the hurricane had major impacts on business.
CleanLink quoted Hank Joseph, president of New Jersey's Spruce Industries, "It was traumatizing. It killed business. Most of the guys say 'We lost a week of business.' How do you get that back?"
Peter Davidson, a manufacturer's representative at Leading Edge Associates, Old Bethpage, N.Y., said November 2012 was "a complete write-off."
"Everything came to a standstill," Davidson told CleanLink. "It was almost impossible to conduct business for weeks. With our power out we had no lights, heat, phone or Internet. Cellular phone service was overwhelmed. We were unable to make sales calls for three weeks. Most distributors I spoke with shared the same experience."