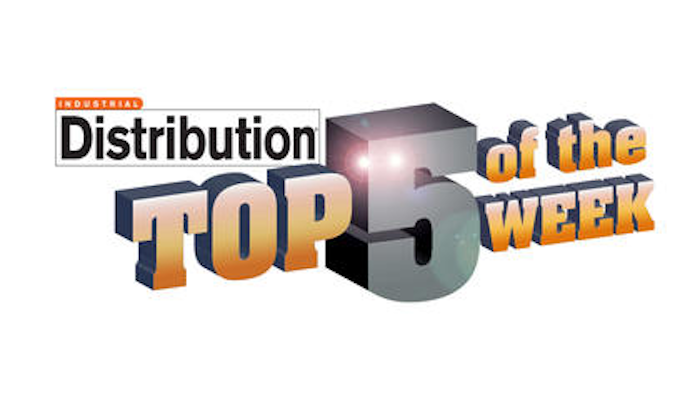 ​It was another big week on IndDist.com despite no major M&A activity, as a UPS Study on customer loyalty in industrial distribution gained major traction. Paul Reilly had another high performing sales advice piece, while results of arbitration between DXP Enterprises and Goulds Pumps was also of high interest.
Here's this week's top 5:
New Study Deconstructs Customer Loyalty In Industrial Distribution: An item that has dominated on ID the past week, UPS recently embarked on a study of the behaviors, preferences, and perceptions of industrial products buyers and they uncovered some interesting trends on how "customer experience" is really coming to the forefront of the loyalty equation. The article asks and answers, 'how do distributors best adapt to this changing buyer, and provide the vital components required to keep a loyal customer base?'
Answer These 6 Questions Before Every Sales Call: Sales guru Paul Reilly examines the crucial element of sales call pre-planning, which only 10 percent of salespeople do despite its benefits and simple process. Reilly highlights how salespeople say they don't need to plan because they already know what the customer needs. "Assuming you know the customer's needs assumes the customer's needs never change," he says.
Free Whitepaper: Pricing Technology Myth vs. Reality
​Goulds Pumps Wins Arbitration Vs. DXP Enterprises, Terminates Agreement: Seneca Falls, NY-based Goulds Pumps Inc., a business of ITT, announced Sept. 22 the results of nearly two years of arbitration. The results showed that Goulds Pumps won its arbitration against DXP Enterprises Inc. for violating a 2010 distribution agreement and has served notice to DXP to terminate the agreement. According to Goulds Pumps, the Sept. 17 dated award says the arbitrator found that DXP's acquisition of B27, LLC on Jan. 2, 2014 was a substantial breach of the distribution agreement and that Goulds Pumps had good cause to terminate the agreement.
Wolseley Cuts Outlook As 2015 Profit Drops Despite Sales Gain: U.K.-based Wolseley plc – No. 1 on Industrial Distribution's 2015 Big 50 List – reported its fiscal 2015 full year financial results on Tuesday for the year ended July 31. The heating and plumbing supplies distributor's figures were highlighted by 2015 total sales of $20.2 billion, up 11.3 percent over 2014. However, pre-tax profit tumbled 25 percent to $771 million. Profit took a large hit from a one-time $337 million charge related to impairment costs at Wolseley's struggling Nordics business. Wolseley's stock was down as much as 12 percent in the early Tuesday U.K. trading hours, which Reuters noted was the company's worst stock day since May 2009.
How Rich Are America's Richest And Presidential Candidates?: Ever wonder just how rich America's richest people are? In this blog, I provide a snapshot of the Tuesday-released, annual Forbes 400, the definitive ranking of the richest people in America. The list, started in 1982, does its ranking by net worth. A spot on this year's Fortune 400 required a minimum net worth of $1.7 billion, which Pew Research shows is 20,000 times the wealth of the typical American household. Last year it took $1.55 billion to make the list. Forbes noted that 145 U.S. billionaires did not make the cut. Similarly, Forbes also released its 2016 Presidential Candidates Wealth List on Tuesday. The list estimates net worth for the top 20 Presidential Candidates for 2016 from both the Republican and Democratic parties.