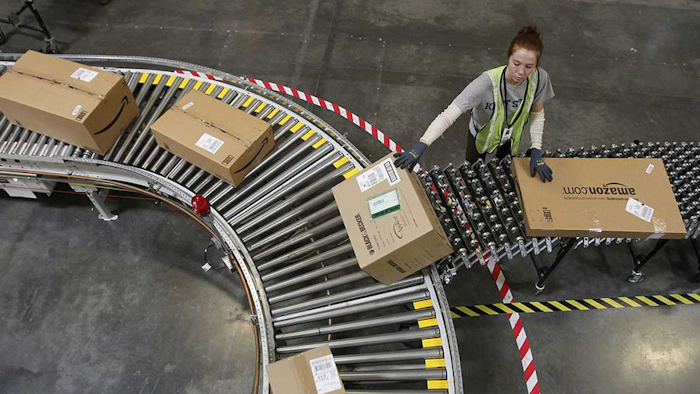 SEATTLE — This year, Amazon will celebrate its third year fulfilling customer orders out of Illinois and surpassing the milestone of 10,000 full-time employees in the state with job opportunities for people with all types of experience, education and skill levels — from human resources, engineers and facilities technicians, to those seeking entry-level positions and on-the-job training.
"We couldn't be prouder to be part of the Illinois family. Our team in the Land of Lincoln has been instrumental in providing outstanding customer experiences, raising the bar on our operational excellence, and continuing to innovate on behalf of the customer. We feel fortunate to have been able to create more than 10,000 jobs in just three years and gratified by the amazing support we've received from the community," said Sanjay Shah, Amazon's Vice President of North America Customer Fulfillment.
Amazon's first fulfillment center in Illinois, located at 205 Emerald Drive in Joliet, opened in 2015 with a team of 1,000 full-time employees. (To see the original press release, click here.) Since the initial building's launch, Amazon has opened eight other fulfillment centers, two Prime Now hubs, an Amazon Fresh site, a sortation center, four delivery stations, an Amazon Books store, and a corporate office in the Prairie State.
This expansion has resulted in Amazon investing hundreds of millions of dollars into Illinois's economy, both in fulfillment infrastructure and compensation to its 10,000 current employees. As a snapshot, according to a report by the company's Economics team, Amazon's investments in Illinois from 2014 through 2016 resulted in an additional $200 million to the state's economy. Using Input-Output methodology and multipliers developed by the U.S. Bureau of Economic Analysis, Amazon estimates its investments in the state have created an additional 7,000 indirect jobs on top of the company's direct hires.
"As the world's largest inland port, Will County is proud to be home to four Amazon fulfillment centers," said Will County Executive Larry Walsh.
Amazon in Illinois by the numbers:
9 fulfillment centers, 6 of which are located in Chicagoland
3 locations in Chicago city proper: Prime Now hub, delivery station, and a corporate office
Amazon's corporate office in Chicago has created jobs for 200 engineers and cloud infrastructure professionals, and is being expanded to host up to 400 people
400+ restaurants leverage Amazon's technological expertise to offer customers superfast delivery on hot food through Amazon Restaurants
8,500+ full-time employees in the greater Chicago area
7,000+ estimated indirect jobs created as a result of Amazon's investment between 2014 and 2016
95,000+ authors, sellers, and developers in Illinois growing their businesses and reaching new customers on Amazon products and services
$100,000+ donated to charities in Illinois through monetary and in-kind donations
$200 million added into Illinois' economy between 2014 and 2016 due to Amazon's investments
More than 6,000,000 sq. ft. footprint for the nine fulfillment centers
Full-time fulfillment center Amazon associates receive competitive wages and a comprehensive benefits package, including healthcare, 401(k) and company stock awards starting on day one. Amazon also offers regular full-time employees maternity and parental leave benefits and access to innovative programs like Career Choice, where it will pre-pay up to 95 percent of tuition for courses related to in-demand fields, regardless of whether the skills are relevant to a career at Amazon. Since the program's launch, more than 10,000 employees have pursued degrees in game design and visual communications, nursing, IT programming and radiology, to name a few.