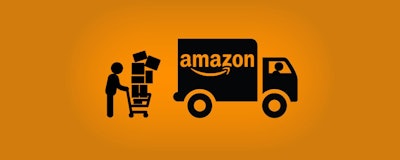 The biggest news on ID over the past week was a recap of the Wall Street Journal's Feb. 9 report that Amazon plans to launch a business delivery service that would rival that of FedEx and UPS, making the e-commerce giant significantly less reliant those companies to deliver its packages.
The WSJ cited anonymous sources familiar with the matter saying Amazon is preparing "Shipping With Amazon" or SWA — which would have Amazon pick up packages from businesses and deliver them to consumers. The service is expected start in Los Angeles "in the coming weeks" and expand from there as soon as this year.
Such news had been rumored or considered a foregone conclusion for some time, as Amazon has ramped up its air cargo fleet over the past two years and just this month announced the launch of free two-hour delivery through its Prime Membership for products bought at Whole Foods — which the e-tailer bought last August.
Nevertheless, the report — which Amazon has yet to confirm or deny — has drawn considerable discussion from distributors, supply chain experts and services providers in the B2B commerce space.
Here, see commentary from a handful of such service providers submitted to ID, regarding how they see Amazon's entry into the package delivery space impacting distribution and the B2B commerce space overall:
Dan Stoll, Technical Product Marketing Manager at Nintex — a provider of workflow automation software and platform that streamlines everyday business practices:
"For those familiar with Amazon's logistics test programs, their new shipping service, 'Shipping with Amazon,' won't come as a complete surprise. Considering the company has experimented with delivery services through drones and cargo jets, it makes sense that they would launch their own delivery service as well. But what's most notable about this announcement is that Amazon currently plans to offer 'Shipping with Amazon' shipping services to outside businesses (in addition to Amazon itself). As a result, distributors are faced with a direct competitor and will need to increase their investment in data optimization and predictive analytics to keep up with Amazon's technology-driven services. For the most part, only distributors with automation in place will be able to drive down costs to Amazon's level. Still, for the time being, Amazon will need to continue to work with shipping partners FedEx and UPS - and this might be a good wake-up call for all distributors to update their automation and machine learning capabilities, as the industry is headed in this direction regardless."
Ray Grady, President & Chief Customer Officer at CloudCraze — which delivers B2B commerce technology native on Salesforce:
"If we've learned anything about the B2B industry, its that Amazon is always looking for segments to disrupt and that B2C expectations are influencing the B2B world. Amazon expanding their delivery service to businesses is a perfect example of this. Amazon is making large investments in B2B commerce and, if businesses want to compete and maintain their market share, they'll need to offer an online buying option as well. It's important for businesses to own the e-commerce experience — and the customer — from end-to-end, and not outsource or give up margins to Amazon. This move by Amazon should serve as a call to action to B2Bs — If they're already in the digital space, they need to continue to innovate, and if they're not, they need to go digital, and do so now."
Scott Webb, president of Avionos — a digital-based sales and marketing consulting and solutions provider focused on connected customer engagement:
"Amazon's move to add delivery services to their business customers is a demonstration of how they are working to enable end-to-end, customer-centric experiences for everyone. B2B, and especially the supply chain, has been slower to integrate with innovative tech solutions just because they typically work with large products that are more deeply rooted in brick-and-mortar commerce. As Amazon's shipping expands, we're seeing the online and offline worlds further converge in B2B and a more streamlined digital process emerge, that will ultimately lead to greater efficiencies and customer satisfaction. We can expect this initial roll out to serve as a basis to improve the offering, as Amazon takes an iterative approach to enhancing it as they expand to new geographies throughout the year."