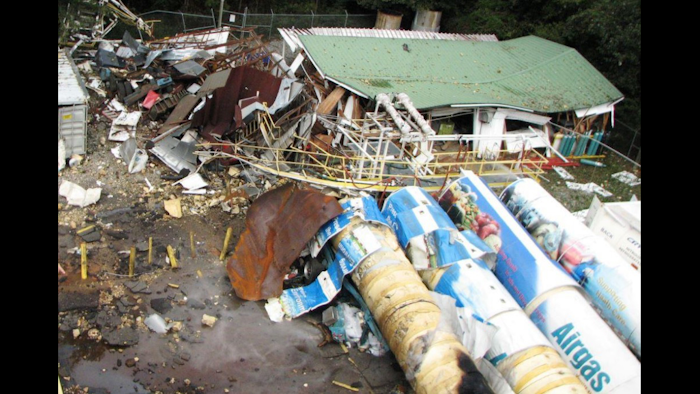 Federal investigators believe that an overheated pump triggered a fatal explosion at an Airgas facility in Florida last summer.
The U.S. Chemical Safety Board released a 146-page report from its investigation into the blast on Thursday, the Pensacola News Journal reports.
Investigators said that the pump used to transfer nitrous oxide — or "laughing gas" — from a storage tank into a shipping container became too hot and triggered an explosive chemical reaction.
Jesse Folmar, who was filling the tanker at the plant in Cantonment, Fla., was killed in the August 2016 blast. He was 32.
The CSB report said that Airgas failed to apply standards designed to prevent nitrous oxide explosions and that the safeguards implemented by the company were likely ineffective.
Airgas also did not evaluate a design option that could have eliminated the need for the pump.
WKRG News (Mobile, AL) posted this surveillance video showing the explosion:
"Safety management systems standards are critical to identify, evaluate and control process safety hazards," said CSB Chairwoman Vanessa Allen Sutherland. "This tragedy in Cantonment should not be repeated."
The agency said that Airgas was cooperating with the investigation and began implementing CSB recommendations prior to its conclusion. The company was previously fined more than $12,000 by the Occupational Safety and Health Administration for violations related to the blast.
"Our top priority is the safety of our associates, customers, and the communities in which we operate," the company said in a statement, according to the News Journal. "We deeply regret the tragic loss of life, damage and disruption caused by the incident."
The Cantonment plant remains shut down and prompted worries that the nation's other nitrous oxide facilities would not be able to meet demand for the gas.
Although it's most famously used as an anesthetic in medical and dental procedures, nitrous oxide is also used by the food sector and semiconductor and chemical manufacturers.