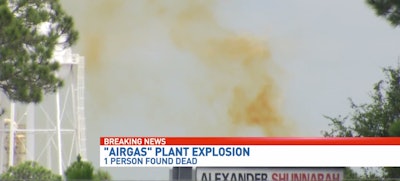 Multiple reports say officials have confirmed that one person has died from an explosion at an Airgas facility in Cantonment, FL Sunday afternoon.
Reports say that state investigators have recovered the remains of one victim at the Airgas facility located within the Ascend Performance Materials plant in Cantonment, where nitrous oxide exploded. Officials recovered a body at around 6:30 p.m. Sunday evening as search crews were sent to look for an unaccounted male employee.
In a statement, Airgas confirmed that the victim was an employee, but did not release their name.
"We have learned that one associate has died as a result of the incident," the statement said, according to the Pensacola News Journal. "We are deeply saddened by the loss of a member of our Airgas family. Our sincere condolences and thoughts are with the family, friends and colleagues of this associate."
The Pensacola News Journal says while the investigation of the event is ongoing, state officials suspect the blast was the result of an accident in the plant's loading dock near a holding tank where two semis were holding nitrous oxide.
Ascend released a statement shortly after the explosion Sunday saying its employees were all accounted for.
"Today at approximately 12:10 p.m. central time, an explosion occurred at the Airgas facility located adjacent to an Ascend Performance Materials plant in Cantonment, FL," the statement said. "Ascend personnel and contractors are all safe and accounted for at this time. Ascend's site operations continue to operate safety.
"Ascend is currently working with local authorities and first responders. According to Escambia County Emergency Management officials, at this time there are no off-site impacts and area residents do not need to take any precautionary measures."
The Ascend plant supplies a mixture of gases to the Airgas plant, which Airgas uses to make nitrous oxide. Airgas is No. 7 on Industrial Distribution's 2016 Big 50 List.
Escambia County public safety director Mike Weaver said the nitrous oxide did not pose a threat to the public and that no additional injuries have been reported.
WEARTV quoted investigators saying the area looks like "a mini war zone" and that "nitrous oxide was leaking in a 500-by-500 foot area, but evaporated before it left the plant.'
The cantonement plant is located about 17 miles north of Pensacola, FL.
Ascend Performance Materials manufactures and supplies chemicals, fibers and plastics products for use in various commercial and industrial products. Airgas is a distributor of industrial, medical and specialty gases, as well as a product line of safety products, welding equipment and specialty tools.
Here is FOX10tv's news report from Monday afternoon:
And here is WEARTV's report from Sunday night:
Here are Tweets from WEARTV and Ascend Performance Materials regarding the explosion: