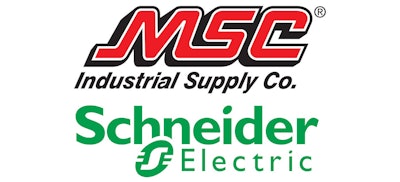 MELVILLE, N.Y. and ANDOVER, MA — MSC Industrial Supply, a distributor of MRO products and services to industrial customers throughout North America, and Schneider Electric, a global specialist in energy management and automation, on Monday announced the launch of an extensive distribution agreement that provides MSC customers in the United States access to more than 50,000 electrical products marketed under the Square D, Schneider Electric and Telemecanique brand names. Square D is Schneider Electric's flagship brand in North America, recognized for quality and reliability. The MSC-Schneider Electric relationship represents one of the largest Square D product offerings available to industrial customers.
"MSC is pleased to partner with Schneider Electric to make the extensive range of high-quality Square D, Schneider Electric and Telemecanique electrical products available to our customers," said Greg Polli, MSC's Senior Vice President of Product Management. "MSC is focused on adding value to our customers by making the purchase of MRO products easy and efficient. This powerhouse relationship broadens MSC's already extensive product offering, which exceeds one million SKUs, and ensures that our customers will be able to find the right products when they need them, so they can keep their operations powered and running smoothly."
"MSC has relationships with thousands of customers who trust MSC to save them time, money and improve their operations," saidTerry Deboodt, National Account Manager for Schneider Electric. "Those longstanding relationships, combined with MSC's world-class e-commerce site and reliable service and delivery, make MSC a natural fit to represent Square D, Schneider Electric and Telemecanique products."
Through mscdirect.com, MSC will offer easy search, order and delivery of 50,000-plus Schneider Electric products, covering more than 80 electrical product categories.
MSC Industrial Supply was No. 14 on Industrial Distribution's 2015 Big 50 List