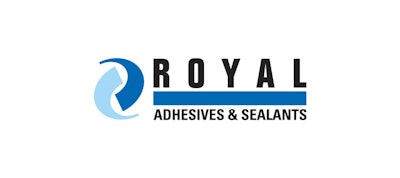 SOUTH BEND, IN — Royal Adhesives & Sealants, announced Monday that it has acquired the business assets of Weld Mount Systems.
Based in Durham, CT, Weld Mount's unique line of adhesively-bonded fasteners are designed for applications such as wire tie mounts, hose and cable clamps, studs, standoffs, and floating nut plates. All of Weld Mount fasteners are mounted with specially developed methyl methacrylate structural adhesives, which hold the parts in place on a vertical or overhead surface while curing to a permanent high strength bond.
"Weld Mount's adhesively-bonded mechanical fastener systems add a new dimension to the broad set of structural adhesive solutions we offer to our global marine, defense, transportation and assembly customers, who are rapidly adopting advanced composites and engineered plastics into their product designs where traditional mechanical fasteners cannot be used," saidTed Clark, Chief Executive Officer of Royal.
David Estabrook, The Founder and President of Weld Mount said, "Royal, with its global reach and solution provider sales model and in depth knowledge of the marine, defense, transportation and assembly markets, is ideally positioned to continue to drive and support the rapid growth of the Weld Mount product line."