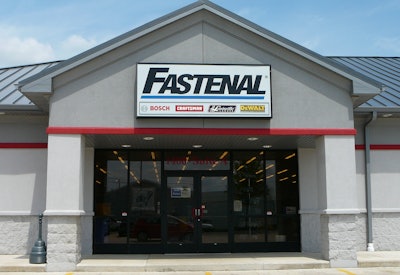 Fastenal – No. 12 on Industrial Distribution's 2014 Big 50 List – reported its 2015 second quarter earnings and supplemental information on Tuesday, as well as those figures for the month of June.
The numbers show it was a solid quarter for the company, as a Q2 profit of $140.4 million beat Wall Street expectations and was a 7.5 percent increase over Q2 2014. Total sales were just shy of $1 billion, coming in at $997.8 million and a 5 percent year-over-year increase.
"The first six months of 2015 were hit hard by a slowdown in our business with customers connected to the oil and gas industry," the company said in a release. "This connection includes direct industry participants as well as those with a geographic connection. That's the bad news, the good news is that we believe there are signs of stabilization in the last few months."
Free Whitepaper: Turn Buyer Expectations into your Competitive Advantage
Fastenal's daily sales growth has decreased in five out of the first six months of 2015: January - 12.0 percent; February - 8.6 percent; March - 5.6 percent; April - 6.1 percent; May - 5.3 percent; June - 3.7 percent.
"In the first six months of 2015, our business weakened," the company said. "Similar to 2014, we experienced poor weather in North America; however, the real weakness was economic. The biggest impact came from customers engaged in the oil and gas business, but we also experienced weakness in other industries, as evidenced by the decline in the PMI Index."
Fastenal's product line sales continued its long-standing decrease, falling to 38.7 percent of total net sales in the quarter. That percentage has steadily decreased nearly every quarter since reading 52.3 percent in Q1 2006, the first quarter that data is available. At the same time, average daily sales have increased nearly every quarter in that same time frame.
For the month of June, total sales of $349.0 million were an 8.6 percent year-over-year increase, and 11 percent increase over a disappointing May. June 2015 had 22 selling days, one more than in 2014.
Sales to manufacturing customers grew by 2.4 percent, while sales to non-residential construction customers grew by 0.4 percent. A year ago, manufacturing customer sales were up 12.0 percent and non-residential construction sales were up 8.8 percent.
HIRING
Fastenal's strong hiring push was evident, as total employee headcount overall is up to 19,527 – up 7.7 percent year-over-year. Over the last 12 months, the company has added 1,392 people to the company overall in the past 12 months, with about 80 percent of that total added in the last six months. Full-time employee headcount has increased 4.4 percent over the last 12 months, increasing to 16,543.
"We stated in January 2015 we would add people in an aggressive fashion during 2015. This is the result," Fastenal said.
Full-time selling personnel count was 12,582 at the end of June. The company made a major sales hiring push in June, adding 361 sales personnel in the month. Fastenal has added 1,397 selling personnel so far in 2015, and now has 510 more than it did at the end of June 2014.
STORE COUNT
Total store count at the end of June was 2,616, down 68 stores year-over-year. Fastenal added three new stores in June, bringing its new stores count to eight so far in 2015. Fastenal added six new stores in Q2 and closed 13. It has closed 26 stores so far in 2015.
VENDING
The number Fastenal's installed FAST Solutions vending machines totaled 50,620 at the end of Q2, a 15.7 percent year-over-year increase (+6,859 units), and up 8.0 percent (+3,765) since the end of 2014.
"We were also pleased to hit the milestone of 50,000 installed industrial vending devices," the company said.