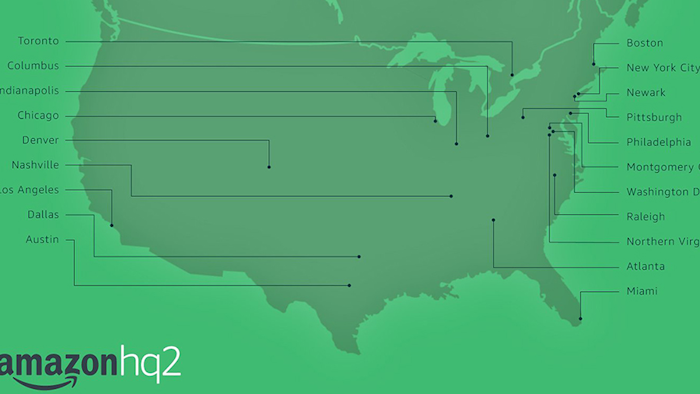 On Thursday, Amazon unveiled the metropolitan areas that are its top 20 candidates for the e-commerce giant's second world headquarters location — which it calls HQ2. Amazon narrowed down the 238 proposals it received down to the following metros, in alphabetical order:
Atlanta, GA
Austin, TX
Boston, MA
Chicago, IL
Columbus, OH
Dallas, TX
Denver, CO
Indianapolis, IN
Los Angeles, CA
Miami, FL
Montgomery County, MD
Nashville, TN
Newark, NJ
New York City, NY
Northern Virginia, VA
Philadelphia, PA
Pittsburgh, PA
Raleigh, NC
Toronto, ON
Washington D.C.
So now that we know the candidates, we can analyze which of them has the best odds to be Amazon's HQ2. Geographically, 14 of these 20 metros are in the eastern time zone. With Amazon's current world headquarters being in Seattle, it would make sense for the company to want HQ2 on the opposite coast so it can truly span the country. Plus, if placed in the northeast U.S., it would put Amazon closer to the European market, where it is growing rapidly.
As a refresher, Amazon's main four criteria for its HQ2 location are:
Metropolitan areas with more than one million people
A stable and business-friendly environment
Urban or suburban locations with the potential to attract and retain strong technical talent
Communities that think big and creatively when considering locations and real estate options
HQ2 could be, but does not have to be:
An urban or downtown campus
A similar layout to Amazon's Seattle campus
A development-prepped site. Amazon wants to encourage states and communities to think creatively for viable real estate options, while not negatively affecting its preferred timeline.
Within 24 hours of Amazon's top 20 unveiling, numerous publications posted their rankings or odds for these cities' likelihood of landing HQ2.
As best I can tell, the aggregate of those publications' top contenders seem to include, in alphabetical order: Atlanta, Austin, Boston, New York City and Washington D.C.
Author and demographic/location researcher Bert Sperling, who founded Sperling's BestPlaces, has Atlanta atop his new HQ2 rankings, followed by Suburban Virginia (D.C. area), Washington D.C. and Surburban Maryland (D.C. area).
"The Washington D.C. and New York metro areas took a big jump in our prediction," Sperling said. "Amazon is giving us a big clue that there are really serious about these places. Three of their top twenty are in the Washington D.C. area (D.C., plus suburban Virginia and Maryland), and Newark is part of the New York City metro area. Together that's 25 percent of their picks, just in the DC and New York areas. Atlanta has affordability and open space to offer, but it may be more important to Amazon to near a center of economic and political power, like D.C., Boston and New York. Amazon's smart move would be to avoid the downtown core and build on the outskirts, thereby avoiding crowding, overpricing, and congestion. This is true no matter where they ultimately decide to settle."
Personally, I think HQ2 will be in either Washington D.C. or Atlanta. I definitely think HQ2 will be on the east coast. Cities like Denver, Austin and Chicago are set up well for it, but with Amazon's sights set on globalization of its supply chain, the geographic factor weighs heavily in favor for the east coast. And of those two, if I had to pick, it'd be Washington. I think Atlanta has a better logistical setup, but I think Washington is better for Amazon's long-term goals. Plus, Amazon CEO Jeff Bezos bought a $23 million home in D.C. only a year ago, shortly after buying The Washington Post.
But, would Bezos want his company's second headquarters in the same city as President Donald Trump, who notably criticized Amazon in the past year? That may play a factor as well.
My hometown of Madison, WI submitted a HQ2 bid to Amazon, but sadly didn't make the top 20 cut. But that was expected. It HQ2 lands in Chicago, I'll definitely make the drive down sometime.