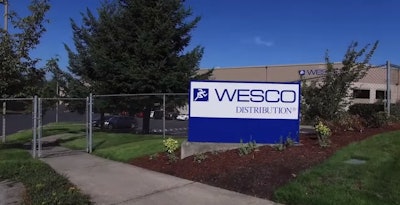 WESCO International closed or consolidated 30 branches in the first half of the year and has eliminated more than 600 positions in the past several quarters as some of its end user markets, particularly industrial, continues to show signs of weakness.
In its recent Q2 earnings call with financial analysts, WESCO — No. 6 on Industrial Distribution's 2015 Big 50 List — said direct oil and gas sales declined 25 percent in the quarter on top of a 25 percent decline in Q1. But as a result of Wesco's expansion of its customer base, direct oil and gas sales now only make up approximately 5 to 6 percent of its total business.
WESCO narrowed its 2016 outlook by forecasting sales of flat down to two percent in its Q2 fiscal report. The company had said last quarter that it expected sales to be flat down to 5 percent for the year. It also estimates sales to be down 3 percent to flat for the third quarter.
"I think industrial has turned out to be tougher than we thought, and we've got prolonged weakness, let's say lingering weakness," said John Engel, chairman, president and CEO of WESCO according to a transcript of the call provided by Seeking Alpha. "We had expected industrial would improve as we moved through the year, particularly in the second half.
"We're clearly not seeing that because in Q2 our industrial end market, our largest end market, was down 10 percent. Our outlook in December for industrial was for it to be down mid-to-high single digits for the year. And now we're looking at much more high single digits to low double digits."
Despite the stagnant industrial conditions, WESCO is seeing some positive signs. Engel noted that the outlook for the non-residential construction market, commercial, education and health care, in particular, is modestly positive.
Those segments each grew in the second quarter, further expanding Wesco's share of the construction market.
Wesco has also received a contract to help a large energy developer construct a wind farm in the U.S. and a multiyear contract to supply MRO supplies for a major U.S. automotive manufacturer.
Engel also said Wesco would continue to benefit from utility consolidation because his company is able to implement integrated supply solutions, some of them complex, for those customers. He also sees continued growth in data and broadband communications, driven by data center construction and retrofits and cloud technology projects.