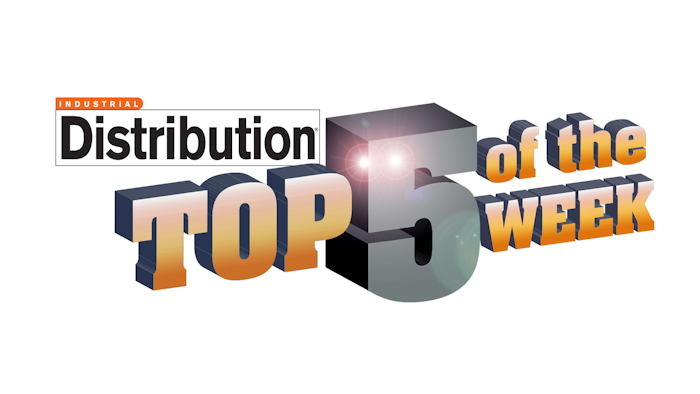 It's another earnings reporting season, and to no surprise, the fiscals of a handful of ID's Big 50 List companies dominated news over the past week. Grainger, WESCO International, Airgas, and Applied Industrial Technologies all posted their quarterly performance this past week.
Here's this week's Top 5
Grainger To Close 55 Branches In 2016 As Q4 Sales & Profit Dip: Grainger posted Q4 sales of $2.48 billion, down 1.3 percent year-over-year, narrowly beating analysts' expectations of $2.47 billion. Q3 sales were $2.53 billion. Meanwhile, Grainger's profit of $145.2 million was a 2.4 percent yearly decrease from last year. Q3's profit was $192.2 million. As expected, the company attributed the sales and profit declines to ongoing foreign exchange headwinds, low oil prices, and lower pricing. In its Q4 earnings release podcast, Grainger stated that it plans to close 55 branches in 2016 as it continues to adjust its U.S. branch network. Grainger closed 47 branches worldwide in Q4, including 36 in the U.S. and nine in Canada.
Jack Keough - Fastenal Recognizes, Knows Customers' "Pain" (Blog): As a follow-up to Fastenal's Q4 earnings report on Jan. 15, ID contributing editor examines Fastenal CEO Dan Florness' comments in the company's post-earnings conference call. There, Florness related the company's struggles with its customers', yet gave reasons for optimism.
5 Ways To Regain Lost Customers (Article): Cutwater Solutions' Michael Quinn discusses simple tips to help earn back customers who have deserted you, including learning why they left, and owning up to mistakes.
WESCO Q4 Profit Plummets 35% From Last Year: Pittsburgh-based WESCO on Thursday reported its 2015 Q4 and full year earnings, which provided further evidence of the ongoing industrial recession. WESCO's Q4 sales of $1.86 billion were a 7.0 percent decline year-over-year, while the company's profit of $48.8 million took a 35.0 percent dive from last year's $74.5 million. Organic sales decreased 7.6 percent in Q4, with foreign exchange negative impacting overall sales by 3.7 percent.
Airgas Q3 Sales Dip Further, Profit Sinks Nearly 21% From 2015: Airgas – acquired by Air Liquide in November for $13.4 billion – reported its 2016 Q3 earnings on Thursday. The company posted Q3 sales of $1.3 billion, down 2.6 percent year-over-year, and down 5.5 percent from Q2. The company's Q3 profit of $73.9 million sunk 20.7 percent from the same period last year, and 24.6 percent from Q2. The company said organic sales decreased 4 percent year-over-year in Q3, in which its Distribution segment posted a 5 percent organic sales decline YOY.