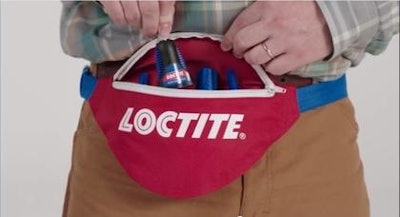 Industrial adhesives company Loctite made news last week when it became known that the manufacturer spent its entire 2015 advertising budget on a 30-second commercial that aired during Sunday night's Super Bowl. The estimated cost of every 30-second ad during the telecast was $4.5 million, making it quite a gamble for a company, that before the fourth quarter of the big game, was relatively unknown to the general public.
The ad, "Positive Feelings," featuring a variety of people dancing while wearing Loctite fanny-packs and using the product to fix things. It ends with a couple saying, "Locite saved our marriage." While it has a bizarre element, the commercial has drawn praise for using "average looking" people instead of models or celebrities, and for being a gag ad among a group of commercials that were largely somber.
Yahoo! TV's Price Peterson said the ad was one of the best of the night, saying, "Sometimes the point of an ad is less to sell a product and more to just get you to remember the product's name. I will remember Loctite now."
Vox.com ranked it as the Super Bowl's second-best commercial, saying, "This is the strangest use of a Super Bowl ad buy in quite some time. It seems like a spoof for most of its running time, but it keeps going and going... and then you realize these people really are that excited about glue. It's some kind of masterpiece."
Adweek gave the ad a thumbs up in its Super Bowl commercials review.
Here's what people had to say about the ad on Twitter:
(868,000 followers as off Noon CST Monday)
(461k followers)
(356k followers)
(118k followers)
(4,024 followers)
(4,395 followers)
Here's the ad: