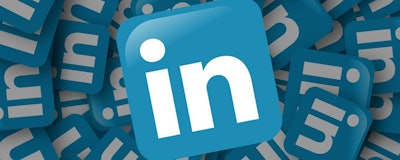 Editor's note: This is part one of a three-part series
LinkedIn is one of the most powerful "personal" marketing and selling tools ever created.
But to turn it into your own personal sales machine, it should be more than just a listing of your skills, education and work experience. Especially if you are in sales, you can use LinkedIn to create your brand that clearly, quickly and concisely differentiates you from your peers, and demonstrates the value you deliver.
It all starts with your LinkedIn profile. We need a strong profile to attract prospects with our strategic information so they will feel comfortable doing business with us.
The first things we need to do are the following:
Start in the "Off" Position: Be sure and disable notifications to your LinkedIn network. This way, if you change your profile a few times at one sitting, your network will not be notified each time it has been changed.
Headshots matter: Your profile headshot is crucially important. "Glamor shots," headshots more than five years old or those taking on some fishing trip, won't work. You want a professionally taken, smiling headshot, that makes you look friendly and approachable.
Avoid "blah blah" headlines: Your LinkedIn headline is your "so what." It's the first thing visitors read about you. Describe a benefit you offer the viewer; keep it short; use vertical lines (|) to separate phrases; add keywords; and avoid cliché phrases. For instance, words like "passionate" and "passion" get a big yawn today.
Summing up the Summary: Your profile summary should tell someone why they should do business with you. Provide specific examples of how you have helped grow sales, lower operating costs, improve customer satisfaction, reduce risk, solve problems and deliver as promised, etc.
Expanding on Experience: Don't turn your profile into a resume. When listing past work experience, demonstrate with specific examples of situations and challenges you have addressed for a customer, what actions you took to resolve them and the end-results you delivered.
Recommendations on Recommendations: It's very important to get recommendations. However, be strategic so they reinforce your brand. If you are in sales, a recommendation referencing your capabilities as a former school teacher (for instance) will not enforce your brand. Ensure your recommendations speak to who you are today… a salesperson that can deliver.
Edit Edit Edit: Review your profile to make sure grammar and spelling are correct. Then look for ways to make it shorter and more to the point. Bulletpoints are very effective.
Finally, profiles are not written in stone. Every few months, give it a facelift, post a new headshot, add some updates. Your profile is a living and breathing example of who you are and what you have to offer.
Mike Sawchuk is a consultant working with distributors and business leaders with the development and execution of strategies, tactics and training in order to drive growth in sales and profits. He can be reached through his company website at www.sawchukconsulting.com