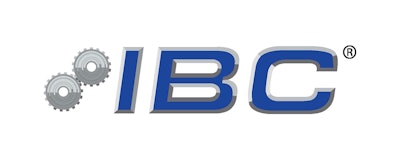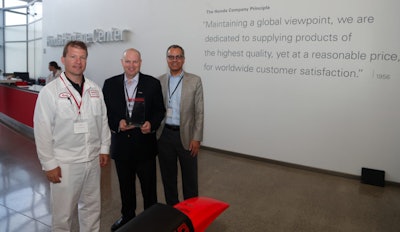 EAST GRANBY, CT — IBC, a North American alliance of industrial, bearing & power transmission, electrical and subassembly distributors, announces that it has won Honda's 2018 Outstanding Value Award, one of the manufacturer's Indirect Procurement Supplier Awards.
Honda recognizes indirect suppliers for achievements in the categories of outstanding value, performance excellence, special recognition and supplier of the year. Indirect purchasing activity for Honda's business and manufacturing operations in Indiana and Ohio — across more than 2,200 suppliers — totaled $2.55 billion in 2017.
Honda honored 21 vendors that provide indirect products and services to five Honda manufacturing plants in Ohio and Indiana and corporate operations at Honda North America, Inc.
"As Honda approaches its 60th year of business in North America, we would not be where we are today without all of the great supplier partners that have supported us along the way," said Monica Oliverio, manager of the North American Indirect Procurement Department at Honda of America Mfg., Inc. "We want to thank our suppliers for the important role they continue to play in Honda's success by bringing new ideas and value to our business."
Working as an integrator to support Honda in multiple product categories utilizing the latest technologies, IBC and its stable of independent distributor members have earned a strong reputation for flexibility and responsiveness through its ongoing management of MRO products and services for Honda's plants in Ohio and Indiana.
"IBC distributors go to work every day exploring new opportunities for cost savings, enhancing product standardization and delivering innovation solutions to Honda," said Bob Linderman, Director, Strategic Account Management for IBC. "This award is a testament to the mutual passion IBC and Honda share for continuous improvement."
With one of the largest and most diverse U.S. manufacturing footprints of any international company operating in America, Honda has been producing automobiles in America for more than 35 years and currently operates 12 major U.S. manufacturing facilities that produce Honda and Acura automobiles; Honda power equipment products; Honda powersports products; the HondaJet advanced light jet; and GE Honda HF120 turbofan engines.
IBC President and COO Ron Nuñez said the organization and its distributor-members are honored to be recognized by a well-respected industry brand like Honda. "IBC continues to be passionate about the mutual success we share with Honda and its associates," said Nuñez. "Every day we continue to work hard for Honda makes us that much better as an organization. It's great to be recognized as a result of those efforts."
IBC is a North American alliances of industrial, bearing & power transmission, electrical and subassembly distributors with over 400 branch locations and total sales in excess of $2.6 billion. The organization provides multi-location customers a streamlined, cost-effective, dynamic purchasing source for national and regional contracts. IBC provides its Independent Distributors and Preferred Suppliers with the tools, resources and market access needed to thrive in today's competitive marketplace, including a unique collaboration forum. IBC is a Hispanic Minority Business Enterprise (MBE) certified by the National Minority Supplier Development Council (NMSDC).