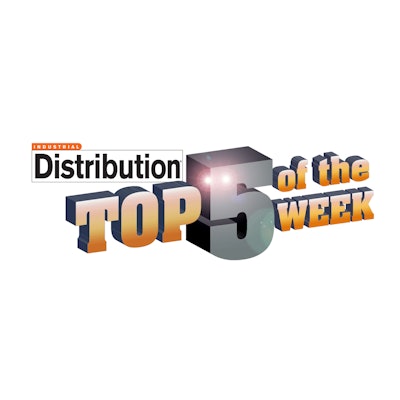 Another week, another Amazon item dominating the ID headlines as the e-commerce giant announced the launch of Amazon Business Prime — making it even easier for B2B distributors to sell on the rapidly growing platform.
Here's this week's Top 5
Amazon Business Launches Business Prime Shipping; Grainger Responds: Mirroring its long-standing Prime membership for B2C customers, Amazon has launched Amazon Business Prime in the latest evidence that the e-commerce giant is investing heavily into dominating the B2B landscape. Learn the details here. Stock shares of Grainger, Fastenal and other major distributors have notably fallen since Tuesday's announcement.
Motion Industries To Acquire Apache Hose As Q3 Sales Jump 7%: Motion Industries is staying busy on the acquisition trail, adding a major name in the industrial rubber products market to its portfolio while its third quarter sales and profit saw considerable year-over-year increases.
Are You Prepared For When Your "Go-To" Employee Is Gone?: We all have them, a go-to-person in our organization. You know the one. They have "been there" and "done that." They know all the ins and outs and worked on the big a d little projects. What happens when your go-to decides to retire or move to greener pastures?
NetPlus Announces Rebranding At Annual Meeting, Honors Award Winners: Industrial distributor and supplier buying group NetPlus Alliance hosted its fourth-annual meeting Oct. 8-10 in Orlando, FL, where the company revealed a new logo and handed out seven awards.
Essendant Removes Interim Tag From CEO; Industrial Sales Improve 3.8%: Having been Essendant's interim president and CEO since Robert Aiken Jr.'s resignation in June, Ric Phillips has had the interim tagged removed. Meanwhile, the company's overall sales continued to decline in Q3, though Industrial products sales continued to improve.