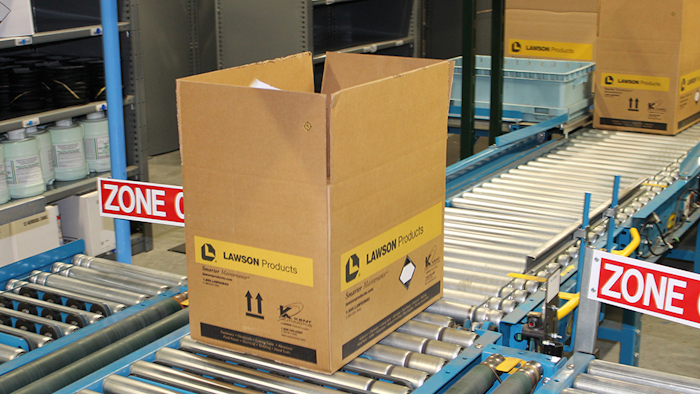 Chicago-based MRO products distributor Lawson Products — No. 37 on Industrial Distribution's Big 50 List — reported its 2017 third quarter financial results on Thursday, led by continued gains total and average daily sales, powered largely by increased sales rep productivity.
Lawson posted total Q3 sales of $75.7, up 7.4 percent year-over-year (YoY), and that includes one less selling day than a year earlier. Factoring that in, average daily sales of $1.2 million increased 9.5 percent YoY. The company said the increase was powered by an 11 percent growth in sales rep productivity, 2016 acquisitions and the continued improvement of the MRO marketplace. Year-to-date average daily sales were up 8.2 percent YoY.
Sales per Lawson representative per day grew 1.4 percent in Q3, identical to Q2. The company ended Q3 with a total rep count of 988 — essentially identical to the end of Q2.
So far in 2017, Lawson's YoY sales growth by quarter has been 7.0 percent in Q1; 8.2 percent in Q2, and 7.4 percent in Q3.
Lawson's Q3 total profit was $1.3 million, compared with $1.8 million a year earlier. Operating profit of $1.1 million compared with $2.4 million a year earlier, while gross profit increased from 60.6 percent to 60.8 percent.
"We continue to see strong increases with our large national customers and regional business allowing us to leverage our existing infrastructure," said Michael DeCata, Lawson president and CEO. "We are very pleased with our 68 percent improvement in adjusted operating income on a 9.5 percent increase in average daily sales."
During the quarter, Lawson completed its largest acquisition in 2 years with the purchase of Calgary, Alberta-based The Bolt Supply House. The acquisition was not reflected in Lawson's Q3 earnings report. The addition added $34 million to the company's consolidated sales, gained Lawson 27 sales reps, 13 branch locations and a 43,000 square foot distribution center in Calgary.