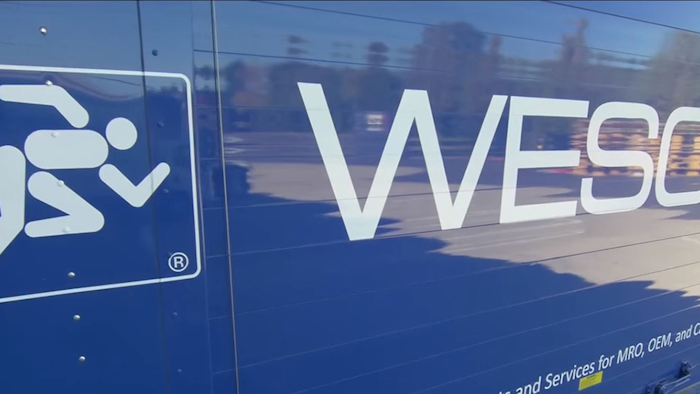 We're in the midst of another fiscal earnings reporting period, with many well-known industrial distributors and suppliers posting their latest quarterly performance. Here's a roundup of the key figures posted by WESCO International, Timken, Air Liquide, Ingersoll-Rand and Praxair.
WESCO International
Pittsburgh, PA-based electrical/industrial products distributor WESCO International reported its 2017 third quarter fiscal performance on Thursday, led by considerable year-over-year (YoY) growth in overall and organic sales.
The company posted total Q3 sales of $2.0 billion, up 7.8 percent YoY, with organic sales up 8.6 percent — its best mark in more than 5 years. Sequentially, Q3 sales were up 4.7 percent from Q2 overall, and up 4.8 percent organically.
Total Q3 profit of $53.7 million was a complete reversal from a net loss of $31.6 million a year earlier, while adjusted Q3 profit was $51.1 million. Operating profit of $89.3 million was down slightly from $92.6 million a year earlier, while gross profit of $385.4 million grew from $365.0 million a year earlier.
"Our third quarter results exceeded our expectations and reflect improving momentum in our business," said John Engel, WESCO chairman, president and CEO. "Building on our return to growth in June, our sales momentum accelerated in July and remained consistently high throughout the quarter and into October."
Timken
North Canton, OH-based bearings maker Timken posted Q3 total sales of $771.4 million, up 17.3 percent year-over-year. The company said the major increase reflects higher demand across most end-market sectors, led by industrial distribution and off-highway.
Timken's Q3 total profit of $53.5 million was a considerable increase over $33.6 million a year earlier. Adjusted profit of $55.9 million compared with $42.1 million a year earlier.
"We reported strong revenue and earnings growth in the quarter as we continued to see increased demand for our products and services globally," Timken president and CEO Richard Kyle said. "We executed well, delivering strong organic growth and expanding operating margins both sequentially and year-on-year. We also strengthened Timken's strategic position with the completion of the Groeneveld acquisition, our fifth acquisition in the last four quarters. Our organic growth initiatives and recent acquisitions are progressing well and will continue to deliver value for our shareholders."
By business segment in Q3: 
Mobile Industries sales of $422.8 million were up 19.7 percent year-over-year, driven primarily by the benefit of acquisitions, increased demand in the off-highway and heavy truck sectors and favorable currency, partially offset by lower automotive demand.
Process Industries sales of $348.6 million were up 14.6 percent year-over-year, driven primarily by increased demand in the industrial distribution and heavy
Air Liquide
Paris, France-based Air Liquide — parent company of Airgas — posted Q3 total sales of $5.85 billion, up 3.5 percent year-over-year on a comparable basis, while currency headwinds (-4.0 percent impact) led to a 0.3 percent decline in published sales.
The company's Gas & Services segment had $5.66 in Q3 sales, up 4.0 percent comparably. That considerably outpaces Q2's growth of 2.7 percent, despite a limited impact from the recent U.S. hurricanes. Excluding that impact, the segment's sales grew 4.4 percent. Published sales grew 0.1 percent. The company's Industrial Merchant market grew 4.3 percent in Q3, with higher liquid gas and cylinder volumes pricing up slightly at +1.3 percent. The Large Industries market was in line with second quarter growth at 2.0 percent.
The Airgas portion of Air Liquide's total business referred to as its Industrial Merchant and Healthcare units in the U.S. Air Liquide said Industrial Merchant sales in the Americas grew 3.8 percent in Q3, and 4.2 percent excluding the impact of hurricanes. Liquide gas and cylinder volumes were up in the U.S. and Canada. Healthcare sales grew 4.8 percent in the Americas, driven by solid growth in Canada, which benefited from bolt-on acquisitions.
Ingersoll-Rand
Swords, Ireland-based Ingersoll-Rand posted Q3 sales of $3.7 billion, up 2.9 percent year-over-year, while total profit of $367 million declined 2.8 percent.
By business segment in Q3, Climate Solutions sales of $2.9 billion increased 3.6 percent year-over-year, while Industrial Technologies sales of $731.2 million ticked up 0.2 percent.
Praxair
Danbury, CT-based gases supplier Praxair reported Q3 sales of $2.92 billion, up 8 percent year-over-year. The company said it had higher volumes across all geographic segments and growth in all end markets.
Praxair had a Q3 total profit of $419 million, compared with $339 million a year earlier. Adjusted profit was $433 million, while operating profit was $626 million — up 26 percent from a year earlier.
During Q3, Praxair shareholders approved its business combination with Linde AG. The merger currently remains awaiting regulatory approval.