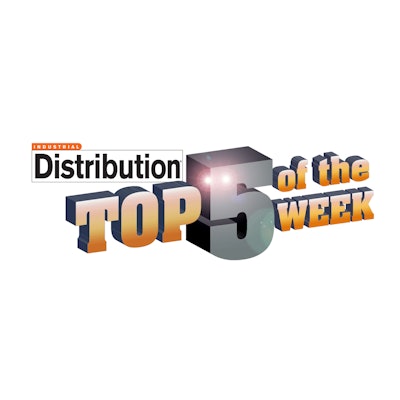 Will our 2017 Big 50 List is still leading the way on ID, other top items include an analysis of Amazon Business and two companies — Home Depot and Fastenal — facing sizeable fines.
Here's this week's Top 5
Industrial Distribution's 2017 Big 50 List: Not surprisingly, our recently-posted 2017 Big 50 List is still dominating traffic on ID. Coming after our countdown videos and print/digital feature, here you can see the list in a condensed, easy-reference version.
Amazon Business, Pt. 2 - What's Missing?: Through Amazon Business, Amazon has established a firm presence in the MRO distribution market. But despite Amazon's size and ordering convenience, there are aspects of it that are certainly lacking compared to traditional distribution channels. Nicole Mahaffey explains.
Home Depot Will Pay $5.7 Million Penalty Over Recalled Products: The U.S. Consumer Product Safety Commission reports that Home Depot has agreed to pay a $5.7 million penalty for selling and distributor previously recalled consumer products between August 2012 and November 2016. See which products those were here.
Here Are The Cities That Match Amazon's Wish List For Its Second Headquarters: Amazon has kicked off a location search for its second headquarters, and the retailer created a wish list to help find the perfect spot for its new campus.
Fastenal Canada Fined $265K For Ozone Violations: Fastenal Canada has been ordered to pay a fine of $265,000 by Environment and Climate Change Canada after the company pleaded guilty to two counts of selling products containing HCFCs over a 26-month period from November 2012 to January 2015.