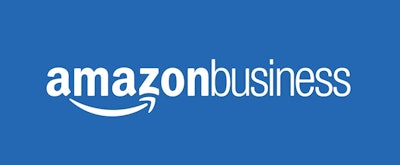 Indeed Amazon, the largest internet-based retailer, has moved into the MRO distribution market, offering products customized to meet business needs. There's no doubt Amazon Business offers a number of competitive features: pricing, account management, and Prime for shipments, but there are aspects that are certainly lacking in comparison to more traditional distribution channels.
Product Support and Expertise
When working with suppliers and developing relationships, of course it is important for that supplier to have the correct core product offering. However, another important aspect in the supplier-client relationship is having support and service that meets your needs. Often times, there are certain specifications products need to meet for the products to function properly in the equipment, and clients often lean on the suppliers for their expertise.
Take for example a power transmission motor. This motor is available for purchase on Amazon Business and the product page shows the price, and a few additional specifications about the product. However, if the buyer is not familiar with this type of motor, has not made this purchase in the past, or has acquired new equipment and wants to know if the motor will run efficiently, the Amazon Business website is not going to giving them all the necessary information required. One feature that Amazon Business does have in order to remedy this problem is the LiveExpert service. This service connects you directly with manufacturers' agents so that you can ask technical and product related questions. However, these are employees of the manufacturer and not Amazon, and therefore this is really no different than working with the manufacturer directly. Amazon Business realizes that there is a need for an expert, and in the future they may need to hire in-house experts to address buyers' concerns and questions.
What value Amazon Business is really providing if they could just go to the manufacturer directly? Buyers make purchases for their business everyday yes, and while some of the purchases might not require additional service or industry expertise, others are more costly and require that additional support.
In person installation and Inventory Management
Another critical aspect that Amazon Business is lacking is in-person installation, support, or maintenance service with purchases. Buyers are able to purchase products in a user-friendly manner online, but what about having the product installed by Amazon, or what if the product does not work effectively or needs repaired? These are services that many suppliers offer to accompany the products sold. Suppliers such as Grainger also have a vendor managed service offering in which the vendor takes full responsibility for maintaining an agreed upon inventory of the material at the client's location. Large businesses often look for this offering, particularly with managing products utilized on a recurring basis. Amazon Business needs to incorporate offerings such as training, maintenance, service visits, VMI, etc. in order to fully vie against the offerings of competitors in the MRO distribution market.
Complementary Product Offering
While Amazon Business may offer millions of products, one of the pitfalls in the product offering is providing complementary products. For example, while a corporation may utilize a supplier for their main products offering, such as utilizing a power transmission suppliers for motors and bearings, they will also look for that supplier to provide complementary items to go along with that product, such as filters, belts, fittings, etc. These complementary items are critical for the product to meet business' needs. Amazon Business customers have complained that in many cases they can buy a core product but not everything needed to complete the installation. Providing these complementary items is critical for buyers to fully transition away from their incumbent supplier. In fact, it is most likely hindering many buyers from adopting Amazon Business since they cannot be utilized as a one-stop-shop.
Amazon Prime
A great offering which provides free two day shipping to members. Likewise for Amazon Business, Prime services are based off individual user. Meaning that a business entity cannot sign up as an Amazon Prime account, but rather each individual buyer must have an Amazon Prime account in order to receive its benefits. This is a major issue since many businesses have contracts that already enable them to receive free shipping. Companies aren't going to want to pay $10K each year for 100 buyers to have Amazon Prime membership in order to get free shipping, when within their incumbent supplier contracts, they already have free shipping.
Amazon Business has worked to develop unique features such as the management of tail spend, supplier consolidation, and workflow authorization in order to address the needs of business buyers. However, there are also features that Amazon Business needs to further develop to be fully accepted by businesses and compete with not only the product and price offerings of MRO industry giants, but also the service and support offerings.
Nicole Mahaffey is a Senior Analyst at Source One Management Services, LLC. In her role, Nicole is adept in executing strategic sourcing initiatives; conducting comprehensive research, vetting suppliers, and developing RFPs with great attention to detail. She is a proven asset in providing detailed financial analysis and creative solutions for client cost savings.
This is Part 2 of Nicole's 2-Part Series on Amazon Business. See Part 1 here.