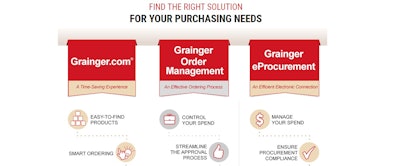 In March 2017, the CEO of Grainger, the largest distributor of industrial products in the U.S., predicted that 80 percent of their sales will happen online by 2022. Yes, you read that correctly — 80 percent. This is obviously a big number, though for those that have been following the progression of industrial sales and marketing over the past 5 years, likely not a surprising one. If anything, this number provided a great visualization of just how much has changed in the industrial sales cycle and where it is headed going forward.
For a full breakdown of the story, you can check out the article published by our friends over at Industrial Distribution. In this post, however, we want to go into more detail about what this means for industrial companies as a whole in terms of their online presence and the impact it has on their sales.
Now, the skeptics will be quick to point out that Grainger is a very different business from theirs and that they can't sell products online and ship them to customers. They're right. For example, large equipment manufacturers, who have long sales cycles, complex products, and high price tags, are unlikely to have much success with a pure e-commerce model. Similarly, many fabrication shops will struggle to sell directly online, since they don't offer any standardized products (although there are several online fabrication businesses operating today). Others will recognize the similarities between their business and Grainger, but feel confident that their relationships and local connections are what drive their business success.
These skeptics, though, are missing the larger point behind the Grainger industrial sales prediction.
Business models aside, it drives home the fact that industrial buyers are increasingly trusting online sources to find the products they need for their business. Regardless of what they are buying, it proves that industrial buyers are online. Information about more complex products and services, whatever they may be, is only a click away and can be immediately accessed from the comfort of a desk, shop, or work truck. So, what does this mean for the average industrial manufacturer, service provider, or distributor? We've at ActiveConversion put together three key takeaways to consider:
1. Proximity is No Longer Enough for Industrial Sales
Gone are the days where there is only one shop, manufacturer, or service provider in town. The Internet has leveled the playing field and businesses are now forced to compete with nationwide suppliers and international manufacturers, whether they like it or not. As industrial buyers spend an increasing amount of time online, manufacturers, distributors, and industrial service providers need to go where their customers are. Buyers can't be relied upon to walk down the street or pick up the phone when they can get better information with the click of a mouse — from a business on the other side of the state or country.
2. Companies That Ignore Online are Being Disqualified
Industrial buyers are online. We know it, Grainger knows it, and you should know it by now as well. Whether your business offers the type of products that can be sold online directly or not, every industrial company needs to adopt an online approach that at the very least supports their sales cycle. Supporting the sales cycle means that the specifications buyers need can be easily found online. A website is only the start. The important part is getting that web page in front of the people who are looking for it and identifying who those potential buyers are (this blog is filled with suggestions on how to do this). Businesses that can't be found are immediately disqualified as buyers choose between other providers that are more readily accessible — regardless of the time of day or day of the week.
3. Your Competitors (and Grainger) Are Already Doing It
Finally, Grainger may be a leader when it comes to selling industrial products online, but in order to be a leader, there must be followers. Take Amazon for example, by far the leader in e-commerce. How many brick and mortar stores has it affected? The point is that, while Grainger may be the most recognizable, it is not the only industrial business that has taken the role of the Internet seriously for industrial sales and others are close on their heels. Do a quick Google search for the products or services your business sells. With B2B being one of the fastest growing areas for online advertising, we're willing to bet that someone offering similar products to your business is already using online channels to support their sales in some way. Keep this article's first takeaway in mind; these companies don't need to be your neighbor to be your direct competitor anymore. On the flip side, you can now provide your product and services outside of your usual geographies as well!
If nothing else, the recent Grainger industrial sales projections should come as a final wake-up call for the remaining manufacturers, distributors, and service providers that have ignored the hoards of buyers moving online to find the products and services they need. A sense of urgency needs to be stressed here. While Grainger's prediction is still 5 years away, it's not as if they are starting from zero today. In 2015, 41 percent of Grainger's sales were online. In 2016 that number rose to 60 percent. If anything, a 5-year projection might be on the conservative side of things.
Fred Yee is the founder and CEO of ActiveConversion, a company specializing in industrial online marketing, marketing automation, and demand generation. His work with ActiveConversion has helped hundreds of businesses succeed online and expand internationally. Fred was voted by the SLMA as one of the Top 50 Most Influential in Sales Lead Management for two consecutive years, and continues to gain recognition for his work in online marketing.
This article was originally posted by ActiveConversion on its website here