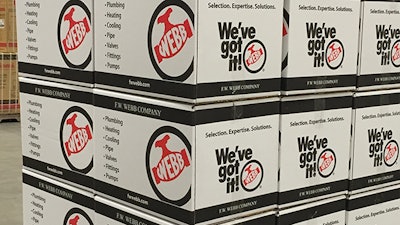 F.W. Webb Co.
BEDFORD, Mass. — F.W. Webb Company, the largest wholesale distributor of plumbing, heating, HVAC, LP gas, refrigeration, pipe, valves and fittings in the Northeast, announced the opening of its newest wholesale location in Queens.
A third-generation, family-owned business with roots dating back to 1866, F.W. Webb's latest New York City store is conveniently located at the geographic center of the five boroughs at 2 Galasso Place in Maspeth, Queens.
"Like all F.W. Webb wholesale locations serving customers in the residential, commercial and industrial trades, Maspeth is a one-stop source for an extensive inventory of high-quality products, in-store expert assistance and unrivaled customer service for planned projects, emergency jobs and ongoing maintenance and repairs," said Bob Mucciarone, F.W. Webb's chief operating officer. "We look forward to serving our loyal and growing customer base through our newest and largest New York City wholesale location."
Located near the Brooklyn-Queens Expressway and Midtown Tunnel, the 94,000 square foot store is F.W. Webb's fourth in New York City, with others located in the Bronx, West Harlem and Manhattan. In addition to helpful in-store assistance delivered by F.W. Webb employees, the Maspeth location features an expansive array of industry-leading plumbing, heating, PVF and industrial products along with ample parking, convenient hours, will call and local delivery. The store's massive 2.5-acre storage yard will hold hundreds of truckloads of cast iron pipe and massive steel pipe up to 24" in diameter in addition to a full tractor-trailer with a forklift attachment and two eight-story high crane trucks.
"Residential and commercial contractors and industrial professionals rely on F.W. Webb for everything from a single replacement product to the complex components, design and technical expertise required to build and maintain large-scale facilities," said General Manager James Turbide. "Our newest location will continue this longstanding tradition in the Maspeth, Queens, community and underscore our unwavering, 150+ year commitment to supporting customers before, during and after every job."