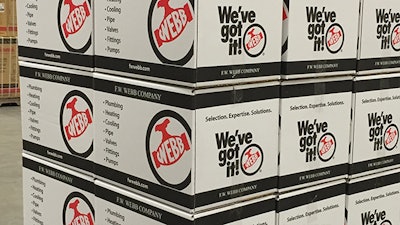 F.W. Webb
BEDFORD, Mass. — F.W. Webb Company, the largest wholesale distributor of plumbing, heating, HVAC, LP gas, refrigeration, pipe, valves and fittings in the Northeast, is pleased to announce the opening of its newest wholesale location at 586 Broadway in Schenectady, New York.
The 20,500 square foot store is F.W. Webb's fifth in the capital region and is located just feet from Interstate 890.
"We chose Schenectady because our customers in the residential, commercial and industrial trades who live and work in the community require a convenient full-service wholesaler to accommodate their needs and we see tremendous growth potential at this location," said Bob Mucciarone, F.W. Webb's chief operating officer. "The opening of our Schenectady store complements our nearby locations in Albany, Colonie and Ballston Spa and our Water Works division in Latham and will allow us to better serve our loyal and growing customer base in this region."
In addition to being a convenient, one-stop source for an extensive inventory of high-quality products, expert advice and unrivaled customer service, the Schenectady store features a state-of-the-art training center that will offer live demonstrations, hands-on training and certifications – just one of the many highlights customers can expect at the new location.
"Whether it be a planned project, emergency job or ongoing maintenance and repairs, customers count on F.W. Webb to provide everything from a single replacement product to the complex components, design and technical expertise required to build and maintain large-scale facilities," said General Manager Mike Bifano. "Our newest location will continue this longstanding tradition and further reinforces our commitment to supporting customers before, during and after every job."