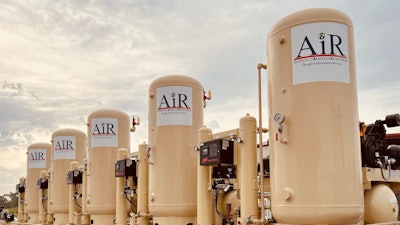 Infinity
YOUNGSVILLE, La. – Infinity Operators, LLC announced it is investing $1.1 million to increase production capacity of its new air compression division through equipment upgrades and physical expansion of its manufacturing facility in Lafayette Parish.
The company, a subsidiary of Infinity Valve & Supply, is expected to create 68 direct new jobs with an average annual salary of $52,000, while retaining 47 existing positions. Louisiana Economic Development estimates the expansion will result in 145 indirect new jobs, for a total of 213 new jobs in the Acadiana Region.
"With this addition, a family-owned business is creating more than 200 new, good-paying jobs in the Acadiana Region," Gov. John Bel Edwards said. "Infinity's investment in its Youngsville facility is an investment in the skilled workers of Lafayette Parish. Louisiana is leading the global energy transition and creating jobs for people in the process."
The company's new air compressor packages will be powered by compressed air rather than natural gas, thus helping to reduce emissions, company officials said.
"The expansion will allow Infinity to provide oil and gas companies with a more environmentally friendly alternative to current practices, helping to reduce emissions," said Infinity founder and CEO Timothy Vincent. "We are excited to see the growth of this latest venture and to employ such a great group of Louisiana residents. This is home, and we want to see our community and state grow with us."
Infinity Valve & Supply is a family-owned business that was founded in 2002 and located in Youngsville since 2008. It also owns Infinity Operators, an energy service company founded in 2018 that specializes in oil and gas property management, contract operations and maintenance services. Earlier this year, Infinity established its air compressor division, called Infinity Air, to design, fabricate and maintain air compressor systems.
The expansion adds 14,536 square feet of operating space on 2.7 acres on Youngsville Highway.
"I am thrilled to congratulate Infinity on their expansion announcement," said Youngsville Mayor Ken Ritter. "Their commitment to growth and investment in our city is a testament to the strength and vitality of the local business environment. The news of creating nearly 70 new direct jobs and 145 new indirect jobs in our community is truly a cause for celebration. This expansion not only bolsters our economy but also provides valuable opportunities for our residents."
To secure the project, the state offered Infinity a competitive incentive package that includes a $150,000 performance-based award for reimbursement of facility improvement costs, contingent on the company meeting its investment, employment and payroll benchmarks. The company is also expected to participate in the state's Quality Jobs program.
"The expansion of Infinity's operations demonstrates the significance of the specialized knowledge and skills of our local workforce in manufacturing for the energy industry and beyond," said Mandi Mitchell, president and CEO of Lafayette Economic Development Authority (LEDA). "The creation of 68 new jobs and 145 indirect jobs, in addition to the retention of 47 jobs, will reverberate throughout Lafayette Parish as Acadiana companies lead the way in the global energy transition."