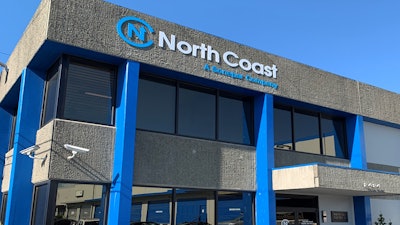 North Coast Electric
SEATTLE — North Coast Electric, founded in 1913 as a distributor of appliances with two locations, has opened the doors of its state-of-the-art electrical products distribution CDC facility in Auburn, Washington.
North Coast's new 285,000-square-foot CDC is energizing the company's ambitious growth plans and marks the most recent illustration of Sonepar's $2 billion worldwide investment in supply chain automation.
"Our vision at North Coast is to be the most customer-centric electrical distributor in the geographies we serve," said North Coast President Cory McCulloch. "We plan on adding three to five new density locations per year over the next couple of years, increasing our footprint from 42 to 80 locations. The new CDC is the key component to growth, productivity and efficiency, along with our strong digital platform.
"The Auburn CDC will enable us to fulfill our vision. We now have the components for success with a highly automated CDC, a strong density plan, and associates that make us 'best in class' to be the distributor of the future."
"This is Sonepar's transformation in action," said Rob Taylor, president of Sonepar North America. "North Coast is on track to reach its goal of $1 billion in sales by 2026 while remaining the most customer center electrical distributor in the Northwest territory. CDC investment will be continuous, with three new CDC's opening across the Sonepar U.S. network this year and many more opening in the following years."