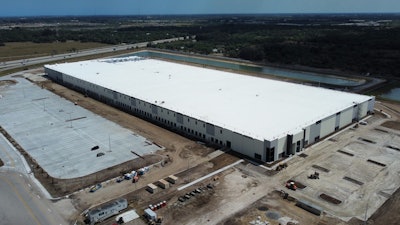 St. Lucie EDC
FORT PIERCE, Fla. — Celebrating the installation of the roof and the near-completion of the Kings Logistics Center warehouse in Fort Pierce, the project's general contractor Catamount Constructors hosted a "topping off" event on Tuesday.
"Roofing a 664,176-square-foot building is a substantial undertaking and well worth celebrating," said construction superintendent Thomas Naumann. "A topping off party is an opportunity to thank our workers, contractors and community partners."
Naumann estimates that the Class A cross-dock facility will be completed in early May with construction of the interior to take place once an end user's requirements are known.
Space is offered for lease from 300,000 square-feet up to the full facility.
"The Kings Logistics Center is an anchor for the new Kings Highway jobs corridor," said Pete Tesch, president of the Economic Development Council of St. Lucie County. "Based on industry averages, we anticipate that approximately 433 people will be employed here once a tenant or tenants are in place."
The facility is located just off Exit 66 (Orange Avenue) on Interstate 95 with easy access to the Florida Turnpike. St. Lucie County is located midway between Miami and Orlando with a population of 20 million within a four-hour drive.
The center's cross-dock design offers 40-foot clear height, 130 loading doors, and four drive-in doors with 284 trailer spots and 676 car parks on the 65-acre site.
Seefried Industrial Properties is the project's developer. Upon completion of the shell, Affinius Capital, formerly USAA Real Estate, will take ownership of the facility.