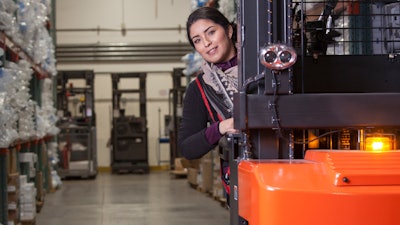 RK Logistics Group
ANN ARBOR, Mich., and FREMONT, Calif. — RK Logistics Group, a leading provider of warehousing, e-commerce fulfillment and supply chain management services, announced Thursday that it has established its Midwest regional headquarters in Ann Arbor, Michigan.
Concurrently, the company also announced it has completed start up and is fully operational with a new 52,800-square-foot logistics services center supporting semiconductor equipment manufacturer KLA Corporation's Innovation Center research and development complex in Ann Arbor.
The Michigan operations are California-based RK's first foray into the Midwest, building upon the company's more than 20 years of experience as a lead logistics provider for the automotive and semiconductor manufacturing industries, RK Logistics President Rock Magnan said.
"We've long supported the semiconductor equipment industry with unique, industry-specific logistics skills and capabilities," Magnan said. "As these clients establish operations in other regions, we are expanding with them in line with their growth and evolving logistics needs. We also believe Michigan is one of the most attractive states for new business, so we are positioning ourselves to capture new opportunities as well."
The new facility, adjacent to KLA's Innovation Center, is located at 10631 High-Tech Drive in the Ann Arbor suburb of Whitmore Lake.
KLA's Innovation Center operates various labs and clean room facilities, which RK supports with unique, industry-specific logistics services and operations training, skills and experience. As the logistics "gateway" for the center, RK handles management of inbound receiving and cross-docking, material storage, staging and control, kitting and light assembly of components, order picking and fulfillment, shipping via dedicated expedited transportation, and inventory reporting and analytics.
Magnan also cited Michigan's automotive industry as another opportunity. In particular, he noted Michigan's leadership and growth in electric vehicle manufacturing as companies like Ford, General Motors, Stellantis, Evian, Lucid and their suppliers establish and expand capacity for EV assembly as well as EV battery manufacturing.
"Support for Tier 1 and 2 automotive also is a tremendous growth opportunity for us, especially on the EV side with our nearly 10 years of experience providing specialized logistics and warehousing services for EV manufacturing in California," Magnan said.
The Michigan site is the fifth facility RK has added to its network in the past 18 months. The expansion came on the heels of two new facilities in Livermore, California, a 75,000-square-foot building at 7600 Hawthorne Avenue in Livermore's National Business Park; and an 81,000-square-foot facility at 7150 Patterson Pass Drive.
Those complement other new RK facilities which opened in Newark, California, during this time, including a 269,000-square-foot facility at 6753 Mowry Avenue; and another 141,000-square-foot building at 7375 Morton Avenue.
Entry-level warehouse associate positions start at $22 an hour. In addition, eligible RK associates can earn extra pay by qualifying for performance achievement, referral, and retention bonuses, which collectively can add up to $8 an hour.