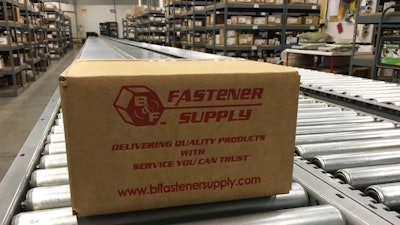 Mike Hockett/Industrial Distribution
B&F Fastener Supply was featured on the cover of Industrial Distribution's 2017 January/February issue as our Distributor Profile, based on ID's visit to the distributor's Ramsey, MN headquarters two months prior.
Since that profile story published, family-run B&F has been busy expanding further with acquisitions and new organic branches, with the company now up to 200 employees across 14 locations. So, we recently chatted with the company to learn all about what it's been up to over the past few years.
Industrial Distribution: Overall, how has B&F adjusted its operations amid the pandemic? What changes has it had to make?
Nicole Baltes, B&F president: "One of the differentiating factors of B&F is our ability to be flexible and adjust to our customer's needs. Operating during a pandemic is honestly not any different for us in the that regard. We have continued to keep our service platform flexible and meet all of our customer's needs. In this time of unknown our customer base has all had different approaches on how they want to handle their service levels. We have made adjustments, as needed, while ensuring we still are delivering the best service possible. As far as internal operations, the biggest change we have made is embracing technology more to communicate with our employees. Video conferencing has been key to our continued success during this time."
ID: Given the role of contactless delivery and logistics flexibility during this time, how valuable has it been for B&F to have its own fleet of around 100 trucks instead of having to rely on a 3PL?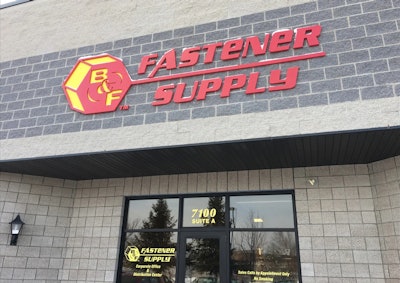 Todd Boone, B&F vice president of operations: "During these challenging times with the pandemic business climate, we've found that having our own fleet of close to 100 vehicles has had more value than ever before. It's all about service, service, service and having the flexibility and control of our own fleet. We're able to appreciate and execute on each customer's specific needs and additional requirements. We can make deliveries at specified times, specified days, to certain doors/areas if needed, masks when required, touchless delivery and signatures if requested and so on. Traveling upwards of 7,500 miles per day while practicing social distancing, disinfecting of trucks, constant washing of hands, we strive to provide the best service in the industry and our fleet is a major component to that success."
ID: "Since the end of 2016, B&F acquired TPI (Davenport, IA) and A-1 Machine (Frederic, WI) and built new Minnesota facilities in St. Cloud and Mankato, as well as Frederic. You're building a new facility in Sioux Falls, SD. What do you think all this expansion says to the market about B&F staying aggressive and the health of the company?"
Aryn Young, B&F marketing director: To say things have been crazy around here is an understatement. We certainly haven't taken our foot off the pedal and really have no plans to. Fortunately, here at B&F we have an incredible team that continues to gain market share despite these crazy times. To be able to expand at the rate we have been is a direct reflection of the success of those locations."
ID: How much importance has B&F's Machining Division taken on over these last few years, culminating in the new Frederic location? And how much does all the additional space there help?
JJ O'Brien, B&F Manufacturing Support: "Our machining division has had a huge impact on our continued growth and has been a major focus for us for the past few years. We are continually adding more equipment and are ready to commit to additional acquisitions. The goal of these additions and acquisitions is to expand our current capabilities and capacity so we continue to be a one-stop-shop for our customers. The recent addition of 25,000 square feet was long overdue for the machining division. The additional space allowed us to strategically move equipment to create the most efficient layout possible in each location."
ID: When ID visited in December 2016, B&F had just re-marketed its BFIRST VMI program. How has that offering evolved or grown since?
Young: "Since we last met in 2016, we have put in additional measures to ensure we are providing the best possible solutions for our BFirst customer base. We did this by creating a BFirst Analyst position, at the corporate level. This person works directly with our branches and provides them with the reports and information they need to make sure we are analyzing the accounts properly. With this position in place it really provides us that opportunity to make sure we are increasing inventory turns, while lowering on hand inventory levels. This allows our customers to invest these saved dollars back into their business."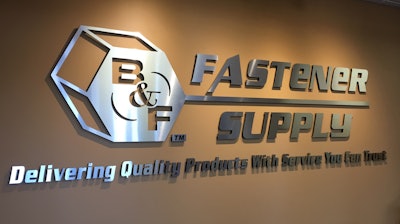 Ryan Shaw, B&F executive vice president of sales: "The BFIRST program has grown exponentially since that time. We have figured out how to market the program based on true customer needs, which often times is more than just a list of parts and usages. Our ability to discover our customer's needs, coupled with our unmatched account reviews have catapulted the popularity of our BFIRST programs. Businesses are starting to see that there is a better vendor managed option when they compare us to their traditional programs."
ID: A bit of self-service here, but how much would you say the ID cover story helped B&F in terms of exposure, at least in the short-term in early 2017?
Young: "We are extremely grateful to have been recognized in one of our industries biggest publications. It really provided validation to our customer and prospect base that we are the real deal and we aren't going anywhere. We still are using that article as one of our many marketing tools. It really helps generate conversation and continues to create opportunities for us."
ID: "When we visited in December 2016, B&F's eight-year succession plan was already in motion. What updates can you provide about how that is progressing?
Young: "In April of 2019 we successfully transitioned to the second-generation with Nicole Baltes officially taking over as president. This was part of an extensive six-year succession training program for her and our executive team. During the course of those years, they all worked hand in hand to help ensure we were ready to navigate through anything that were to come their way (well maybe global pandemic wasn't in their training, but they are certainly doing a great job of navigating the situation). Part of this succession plan also included JJ O'Brien moving up to the corporate level. Back in 2016 it was still unclear what he would be doing, but shortly after that time it occurred to the family that it made sense for him to be involved in the Custom Machining Division. JJ has spent the past couple of years learning the ins and out of that company and will continue to take on more responsibility as time goes on."
ID: Anything else about B&F that our readers should know?
Baltes: "It is certainly not a secret that the dynamics of a family business can be challenging, but it is also extremely exciting and rewarding. The success of our transition to the second generation is multifaceted. This transition would not have been possible without the complete support from all our employees. Thank you for you continued hard work and dedication – you are truly the foundation of our company. This transition would also not have been successful without Loren's foresight to prepare the second generation for the future. We take pride in continuing to lead the team with the same values that Loren built this company on. Even through these turbulent times we continue to grow and gain market share because of our incredible team that believes in what we do. This is our time to shine and highlight one of the many things that makes us so great, and that is being a family-owned business."