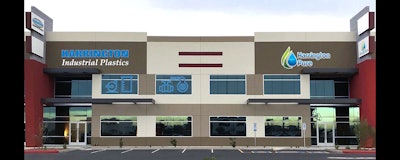 Phoenix, AZ — Harrington Industrial Plastics is announcing the relocation of its Phoenix Branch, which opened on Jan. 28.
Harrington's new energy efficient 20,000 square foot branch location will continue offering local inventory of components for complete systems including: piping up to 24", tanks, pumps, filtration and instrumentation to meet the diverse specifications of any project. Harrington provides piping products for a wide range of applications, from swimming pools and water treatment to semiconductor and chemical process. The company's broad line of piping systems are equipped to handle all media from water to the harshest of chemicals.
The new branch location is conveniently located off exit 152 on the I-10 freeway between 32nd and 40th streets at 4100 South 38th Street, Building B, Suite 140 in Phoenix, AZ.
Address: 4100 South 38th Street, Building B, Suite 140, Phoenix, AZ 85040
Phone: (602) 252-7616
Email: Phoenix@hipco.com
Key Branch Personnel:
Regional Sales Manager – Scott Cadwell
Sales Representatives – Tim Sullivan, Mike Ferrell and Casey Franzen
Inside Sales Representatives – James Abel, Dan Wyckoff and Kevin Schroeder
Since 1959 Harrington Industrial Plastics has been a distributor of industrial plastic piping, serving industries with corrosive and high purity applications. With more than 50 locations nationwide, Harrington offers products to meet the needs of a multitude of industrial and high purity applications. As a expert in solving fluid and gas handling solutions, Harrington's staff has specialists in filtration, pumps, instrumentation, valves and automation.