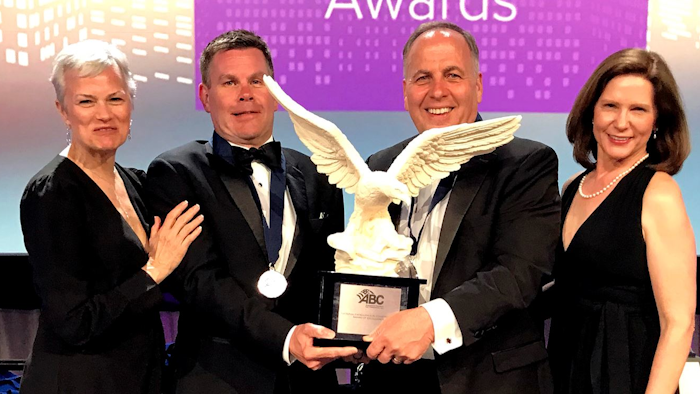 Associated Builders and Contractors recognized national general contractor The Weitz Company with the prestigious Eagle Award for construction excellence.
Presented during ABC's 29th Annual National Excellence in Construction awards banquet in Long Beach, California, Weitz was selected as this year's Eagle Award recipient in the $15 million to $25 million Industrial project category for its construction of the Cobb-Vantress Poultry Feed Mill facility in Joanna, South Carolina. The ceremony celebrated the best in merit shop construction, honoring the year's most outstanding construction projects and contractors for their achievements in leadership, safety, innovation and diversity.
"It was with great honor we received this year's Eagle Award from Associated Builders and Contractors. This is one of the highest endorsements of construction excellence our industry can give a company. An immense amount of credit goes to our project team and trade partners for making it possible," says Kevin Gritner, the Weitz Company's general manager and director of industrial.
Cobb-Vantress is a design-build manufacturing facility Weitz completed in July 2017. The 176-foot tall, state-of-the-art feed mill was built using slipform method of concrete construction. The slipform pour, which took 8.5 days to complete, was self-performed by the Weitz Company with a staff of more than 50 employees who rotated shifts to reach the mill's peak.
The design of the feed mill allows a processing capacity of 2,000 tons per week. Included in the design-build contract were additional project management activities to install equipment for grain storage, grinding, mixing, controls, pelleting, and cooling as well as the construction of a precast warehouse, truck sanitation, and sterilization building.
Weitz gained eligibility for the ABC Eagle Award by first being a Minnesota/North Dakota ABC Chapter Eagle Award recipient. It is the third straight year the company has had an industrial project in contention for the national honor. Ozark Mountain Poultry and Lortscher Animal Nutrition were both EIC Pyramid Award winners in 2017 and 2018, respectively.
Main image: The Weitz Company received an Eagle Award from the Associated Builders and Contractors during its 29th Annual National Excellence in Construction Awards Banquet on March 27. (Photo: The Weitz Company)