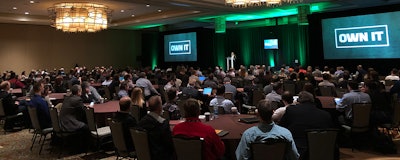 From Feb. 25-27, 2019, AD welcomed more than 280 AD independent distributors and service providers across seven industries and three countries to the third annual AD eCommerce Summit in Fort Worth, TX. Over the last three years, AD has normalized and attributed over 4 million SKUs and 88 AD member companies have launched their Digital Branches with AD eContent. 
Caroline Ernst, AD VP eCommerce Solutions, commented, "It is remarkable what our members have accomplished over the last three years. Independents are now competing and winning in the digital world. And we at AD are honored to play a part in that win. AD is committed to leveraging our scale to help save our members time and money when it comes to their eCommerce initiatives."
The 2019 AD eCommerce Summit agenda was entirely comprised of member-curated content and focused on key strategies to help independent distributors win in an evolving digital world. Attendees could tailor their personal agendas to meet their most pressing eCommerce needs. For the first time, AD introduced eCommerce platform networking sessions for and one-on-one strategic booth sessions where attendees could seek advice from eCommerce experts. 
Jack Templin, AD Chief Programs Officer and President of Industrial Divisions added, "Networking is continuously rated by our members as being one of the top benefits of their AD membership. The opportunity to introduce eCommerce networking expands this benefit to the eCommerce subject matter experts within our member companies. Sharing best practices and lessons learned can save our members money and time, helping them accelerate the eCommerce journey."
During the awards ceremony, members were recognized for their demonstrated leadership and commitment to the continual advancement of the AD eCommerce Program to benefit the entire AD community and for their innovation in the creation and adoption of their Digital Branch utilizing AD eContent to build their business into the future.
The following AD eContent subscribers were presented with eCommerce awards:
2019 AD Industrial eCommerce Leadership: GT Midwest
2019 AD Bearings & PT eCommerce Leadership: Purvis Industries, Ltd.
2019 AD Electrical eCommerce Leadership: State Electric Supply Co. Inc.
2019 AD Plumbing eCommerce Leadership: Capitol Group
2019 AD HVAC eCommerce Leadership: Behler-Young Co.
2019 AD Pipe, Valves & Fittings eCommerce Leadership: Cooney Brothers, Inc.
2019 AD eCommerce Innovator of the Year: Quality Mill Supply Co. Inc.
Dave Gravely, VP eCommerce & Strategic Sales at State Electric Supply Co. Inc. shared, "The eCommerce support and solutions we've received from AD have helped
State Electric compete on a level playing field with the big players without needing a small army to get it done. This award is a reflection of the level of investment made by AD to help us win."
Jake Fegely, COO of Cooney Brothers, Inc. reacted to the win "Without AD eCommerce Solutions, we would not have the website we have; we could not have done it on our own. AD was truly the partner we needed to launch our Digital Branch."
Wilford Gosser, eCommerce & Marketing Coordinator at Quality Mill Supply shared, "AD's motto is 'Together, we win.' and that honestly cannot be truer. This wouldn't be possible without AD and their eCommerce program, Unilog and their development side, and our internal buy-in at Quality Mill—once you put those three things together, you'd be surprised at what you can accomplish. A year ago, I never would've imagined this would be possible but I'm excited for the future."