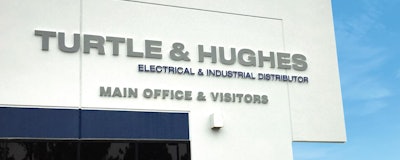 LINDEN, NJ — Turtle & Hughes announced Monday that its board of directors has selected Kathleen Shanahan as company Co-CEO. She joins Jayne Millard, who has served singly as CEO since 2010 and chairman since 2016.
On making the announcement, Millard said, "Turtle is a company with operations in close to 30 states and three countries and as we continue to see opportunities for growth and investment, I find having a trusted, experienced partner as a way to grow our talent and our footprint smartly essential. Kathleen's leadership experiences in business, public policy and government have added to Turtle's market position and with her full time as Co-CEO will help manage Turtle forward efficiently and effectively."
Shanahan has been a member of the company's board of directors for more than three years, and in 2017 was named Executive Vice President of National Accounts, working closely with Millard and the company executive team to drive digital, marketing and brand value for Turtle's customer service in the broader marketplace.
"Turtle & Hughes' commitment to our customers, our communities and to corporate responsibility are key elements to our long-term success and a differentiator in the market place," Shanahan said. "We know that current and prospective customers make business decisions beyond our exceptional products and capabilities, but also based on our values, ethics and integrity. I look forward to continuing to partner with Jayne and the executive team as we strategically grow our business with a focus on exceptional customer service, quality products and commitment to the highest standards."
Prior to joining Turtle & Hughes, Shanahan was CEO and Chairman of Ground Works Solutions, formerly URETEK Holdings, Inc., a Florida-based corporation focused on soil stabilization and densification using a patented polymer application process. Before that, she served as CEO and Chairman of WRSCompass, a national footprint environment engineering and construction company, based in Tampa, FL.
Shanahan has had a long and distinguished background in politics and public service. She has held federal and state public policy positions, including chief of staff for Florida Governor Jeb Bush, chief of staff for Vice President-elect Dick Cheney, deputy secretary of the California Trade and Commerce Agency, special assistant to Vice President George Bush, and staff assistant on President Reagan's National Security Council. In addition, she has worked on public policy-oriented boards, such as the Hillsborough Area Regional Transit Authority and Tampa Bay Area Regional Transportation Authority, as well as Tampa General Hospital, Florida Council 100, Mission Lisa, Women's Corporate Board of Directors, International Women's Forum, and others.
Turtle & Hughes, established in 1923, is an electrical and industrial distribution company serving the industrial, construction, commercial, electrical contracting, export and utility markets. It is family- and employee-owned and ranks among the nation's top 20 electrical distribution companies, as well as No. 26 on Industrial Distribution's 2017 Big 50 List. It is headquartered in Linden, NJ, with branch offices in: Linden, Bridgewater, Plainfield, Pleasantville and Whippany, NJ; Commack, Manhattan, and Newburgh, NY; Houston and Port Lavaca, TX; New Haven, CT; Levittown, PA; Huntington Beach and Ontario, CA; Randolph, MA; and Geismar, LA.