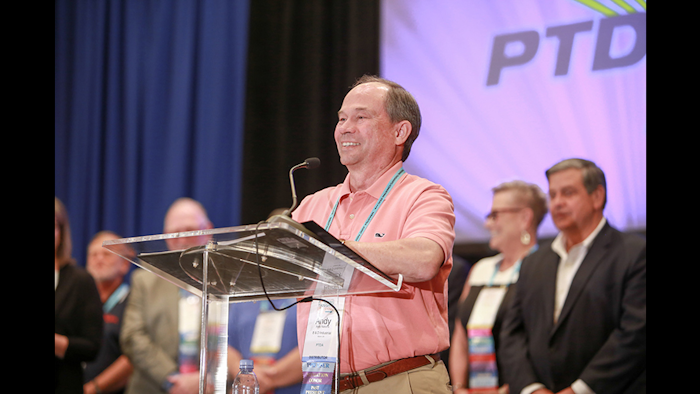 CHICAGO — The Power Transmission Distributors Association (PTDA) has named Andy Nations, CEO of B&D Industrial (Macon, GA), the 27th recipient of its Warren Pike Award for lifetime achievement in the power transmission/motion control (PT/MC) industry.
Nations received the award, named for PTDA's co-founder and first president, at the PTDA Annual Business Meeting during the NIBA/PTDA Joint Industry Summit in Hollywood, FL on Sept. 29. The award was established in 1984 to honor individuals who have demonstrated outstanding, continuous, long-term support of PTDA and the PT/MC industry, and is only presented when an individual's achievements merit this prestigious recognition.
In his acceptance speech, Andy said, "Thank you very much. I am certainly humbled. I always wondered what it felt like to be an icon, and this is it. This is the biggest surprise of my life."
Nations began his PTDA participation more than thirty years ago. After serving on several task forces and committees, Andy served on the Board of Directors from 1997 to 2007 including as board president in 2006. Andy also served on the PTDA Foundation Board of Trustees from 2002-2003 and again in 2006 (as PTDA president). Nations continues to support the work of the association by encouraging and supporting B&D Industrial employees to be active and participate in PTDA programs.
Warren Pike Award recipients are selected by the PTDA Board and are not informed of the honor in advance. Nations thanked the membership for the award, and specifically mentioned his father who encouraged Nations to get involved in PTDA.
"When I was young, my dad said this business is all about relationships, and you will end up with friends. And that's certainly true," Nations said in his speech. "PTDA is a big part of that. I'm proud of this award and thank you very much."
Founded by his father John, today Nations leads the B&D team as its CEO. Now an ESOP, the company features second and third generation founding family members directing the company through its divisions. Andy joined in 1971 as an inside sales person and has held the CEO role since 1993.  
More information is available at ptda.org/WarrenPikeAward.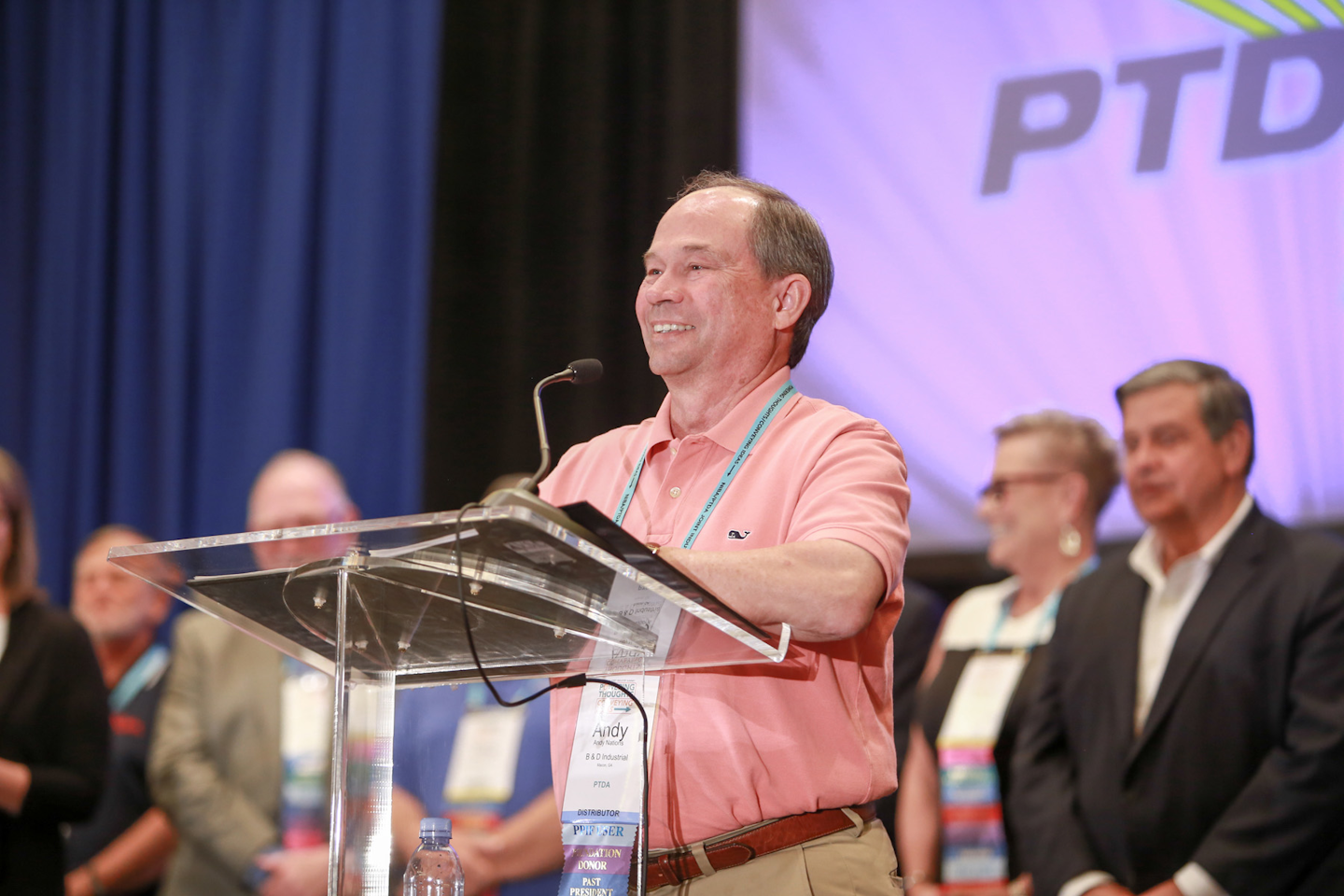 Previous Warren Pike Award Recipients  
| | |
| --- | --- |
| Year | Recipient |
| 2016 | Keith Nowak |
| 2015 | John Masek |
| 2014 | Kevin McCloskey |
| 2012 | Barbara J. Ross |
| 2011 | Carlos O. Ingram |
| 2010 | W. Penny Omnès |
| 2009 | Alan Haveson |
| 2008 | Douglas Savage |
| 2007 | James T. Moore II |
| 2006 | Roger A. Pennycook |
| 2005 | Girard G. "Jerry" Etheridge, Jr. |
| 2004 | Bob Callahan |
| 2003 | David J. Witwer           |
| 2001 | Ralph Rivera |
| 1999 | James A. Minton |
| 1998 | Gene Addington |
| 1997 | Robert M. Oberholzer |
| 1996 | Gary Dulmes |
| 1995 | Gary C. Martin |
| 1994 | George E. Flolo |
| 1993 | Byron E. Griffin |
| 1991 | E.C. (Chuck) Roamer |
| 1990 | Paul Fuller |
| 1988 | Irving Patron |
| 1987 | James A. Creech (posthumously) |
| 1984 | Warren Pike |