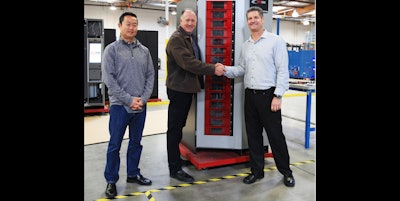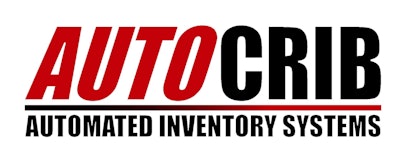 TUSTIN, CA — AutoCrib, Inc., a manufacturer of automated inventory vending systems, has reached a milestone producing its 1,000th RoboCrib VX1000 machine. The RoboCrib is the first carousel based, industrial vending innovation created by AutoCrib founder Steve Pixley. Pixley, pioneered the concept of using purpose-built vending machines designed to vend inventory and industrial supplies.
Pixley built the first industrial vending machine in 1994 in his garage in Huntington Beach, after identifying a need for manufacturers to better track and utilize inventory, something he experienced firsthand as president of an industrial tool distributor.
"We would see our customers struggling to keep track of what inventory they had on hand and the negative impact on productivity and supply chain costs," said Pixley.
As a solution, Pixley created an industrial vending machine capable of storing and dispensing virtually any tool, part or supply. Since then, AutoCrib has grown to support a global network of dealers and distributors and its machines are used by leading manufacturers worldwide, including many of the biggest names on the Fortune 500 and nearly 20,000 machines deployed.
"The RoboCrib revolutionized inventory management by providing manufacturers with a means to boost productivity by making supplies readily available, while keeping costs in check by providing absolute control," said Pixley. "The RoboCrib is the cornerstone of our innovation at AutoCrib, and after more than 20 years of building on that first vending machine concept, it is an honor to see this model of Robocrib embraced and celebrated by the industry."
Marking A Milestone: Partners Sing Praises of AutoCrib's Innovation
To mark the delivery of AutoCrib's 1,000th RoboCrib VX1000 machine, a commemoration event was held January 8 at AutoCrib's headquarters in Tustin, California. Distributors and customers from around the globe sent in messages of thanks and congratulations to Pixley and the AutoCrib team for their accomplishments and legacy of innovation in the industry.
DGI Supply, a full-line industrial distributor that represents over 1,500 of the best brand names in the industry, is a longtime AutoCrib partner. "Steve's vision has changed our industry as it relates to managing maintenance, repair and operations (MRO)," said David Crawford, senior vice president of DGI Supply.
"Steve's ability to surround himself with great people, his tireless imagination and his passion for getting things right has driven AutoCrib's success over the years," said Jim Hobbs, president of DGI Supply Canada. "We send our congratulations on reaching this milestone."
SDI is North America's leading supply chain management company focused on MRO. "AutoCrib is a valued partner and we look forward to working with Steve and his team on an ongoing basis." said Andy Cvitanov, president and CEO of SDI. "We send our congratulations on the accomplishment of producing their 1,000th VX RoboCrib machine."
The Cornerstone of Industrial Vending Innovation
AutoCrib's RoboCrib series is the company's most popular industrial vending machine and are widely recognized as the most flexible and capable machines of their kind. With a variety of bin sizes, RoboCrib can dispense items as small as drill bits to large welding tanks, as well as delicate items like carbide insert and safety glasses. Items are dispensed securely and quickly – less than ten seconds – and each item is tracked so inventory levels are kept up-to-date in real-time. RoboCrib enables custom controls to be implemented, such as quantity limits on an item within a specified timeframe, limits by dollar amount, departmental budget or shifts, and instant alerts when a job may be out of process because of abnormal usage.
Customers have reported significant results from using AutoCrib's industrial vending machines including reducing inventory spend by up to 40 percent, complete inventory visibility, better control of employee and department spending, and improved job costing, inventory forecasting and demand planning.