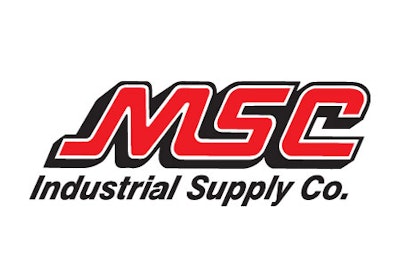 MRO distributor MSC Industrial – No. 14 on Industrial Distribution's 2014 Big 50 List – announced its 2015 third quarter financial earnings on Tuesday for the period ended May 30, and named a new chief financial officer.
The company post Q3 sales of $745.5 million, a 3.5 percent year-over-year increase from $720.5 million in Q3 2014. Profit dipped less than expected, with a 2.2 percent YOY decline to $63.3 million.
Free Whitepaper: The New Benchmarks for Pricing Excellence
Sales by month for Q3 were: March - $295.4 million, April - $230.6 million, May - $219.5 million. MSC estimates that June sales were $278.5 million. There were 25 selling days in March, 20 in April, 19 in May, and 24 in June.
By region, MSC had Q3 sales growth of 2.1 percent in the Midwest, 3.0 percent in the Northeast, 3.6 percent in the Southeast, 9.1 percent in the West, and a 7.2 percent decrease in International & Other.
Sales growth for manufacturing customers was 1.2 percent, and 10.1 percent for non-manufacturing. Seventy percent of MSC's third quarter sales were to manufacturing customers.
Erik Gershwind, MSC President and Chief Executive Officer, stated, "Our organic growth for the third quarter was in-line with our guidance and reflected the continued impact of the soft pricing environment and the lingering effects of the rapid change in oil prices, softening export demand, and foreign exchange headwinds, all of which continue to drag on broader manufacturing activity. We did, however, see growth well above the market driven by continued traction from our share gain programs as customers increasingly leverage our supply chain solutions."
Gershwind went on to comment that the market for MSC looks good in the long-term, noting a fragmented MRO market where large customers are consolidating spending, positive impacts from lower energy prices on U.S. manufacturing, and MSC's value-added growth strategy leaving the company well-positioned.
MSC said it expects Q4 total sales of between $735 million and $747 million.
Along with the quarterly earnings announced Tuesday, MSC named Rustom Jilla to the role of executive vice president and chief financial officer, effective July 20. Jilla succeeds Jeff Kaczka, who will be retiring from MSC as previously announced following a short transition period.
Jilla, 54, most recently served as CFO for Dematic Group, a global provider of warehouse logistics and inventory management solutions. Prior to Dematic, he spent more than a decade as CFO of Ansell Limited, a publicly traded global leader in protective solutions with approximately $1.6 billion in annual revenue and an MSC supplier.
"Rustom is an accomplished CFO with a strong track record of producing exceptional results, while demonstrating high levels of leadership in developing people, teams and organizations," Gershwind said. "We are extremely pleased to welcome him to the MSC leadership team."
Gershwind continued, "I would also like to extend my appreciation to Jeff Kaczka for his steadfast commitment, focus and effective leadership role during his tenure as CFO of the company. We recognize him for his many contributions to MSC's success and wish him the very best in his retirement."
"MSC is a company with a great culture that has been a leading distributor of MRO products and services for many years," Jilla said. "MSC is well positioned to build on this strong foundation and deliver even greater value for its shareholders, customers, suppliers, associates and other key stakeholders. This is an exciting time to be joining MSC and its leadership team."