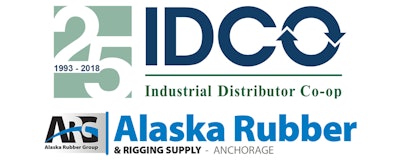 IDCO Co-op, a cooperative for independent distributors serving the industrial community with hose, fittings, gaskets, rubber materials and related products, has announced the addition of their newest member, Alaska Rubber Group.
Alaska Rubber Group, employee-owned and headquartered in Anchorage, has specialized in industrial and hydraulic hose products, rubber products and accessories since 1980.
With nine locations throughout Alaska and Washington, Alaska Rubber Group has grown to become a leading industrial supplier to many industries, including oil and gas, agriculture, and marine.
IDCO currently has 72 members in the US and Canada, and over 75 endorsed suppliers. IDCO members are active leaders in the industry, and its membership includes six of the last eight NAHAD Presidents. IDCO is currently celebrating its 25th year in business. For more information about IDCO Co-op, visit idco.coop.