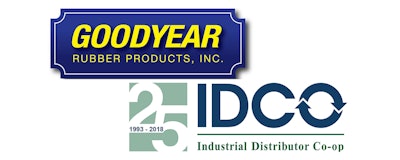 IDCO Co-op, a cooperative for independent distributors serving the industrial community with hose, fittings, gaskets, rubber materials and related products, has announced the addition of their newest member, Goodyear Rubber Products, Inc.
Goodyear Rubber Products, Inc. was launched by Murray M. Jacobs in 1948. The company has expertise in industrial rubber and accessories with locations in Bradenton, Clearwater, Fort Meyers, Naples, Tampa, and their headquarters is in Saint Petersburg, FL.
IDCO currently has 69 members in the US and Canada, and over 75 endorsed suppliers. IDCO members are active leaders in the industry, and its membership includes six of the last eight NAHAD Presidents. IDCO is currently celebrating its 25th successful year in business. For more information about IDCO Co-op, visit idco.coop.