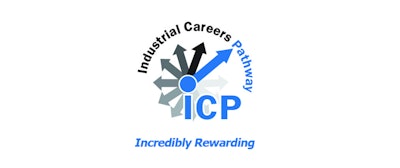 CHICAGO — Volunteers for Industrial Careers Pathway (ICP), called ICP Ambassadors, have been busy during the last few months of the year attending six separate career fairs and conducting ten classroom presentations at four schools including:
Career fairs:
Nick Shah, Bearings & Industrial Supply Co., Inc. at Addison Trails High School in Addison, Ill.
Jim and Mike McLain, Allied Bearing & Supply, Inc. at Ponchatoula High School, Ponchatoula, La.
David Barcomb, Troy Industrial Solutions at Tech High School in Brunswick, Maine and at Northeast Advanced Technological Education Center at the Utica Campus of SUNY Polytechnic Institute in Utica, N.Y.
William Moore at Williamson College of the Trades, Media, Pa.
Keith Nowak, MPT Drives, Inc. and John Masek, Bearing service, Inc., together at Henry Ford College, Dearborn, Mich.
Presentations:
Jennifer Pursell, Central States Group, to five classes at Omaha Benson High School, Omaha, Neb.
Doug Evans to North West Magnet High School in Omaha, Neb.
Mike McLain, Allied Bearing & Supply, Inc. to three classes at Ponchatoula High School, Ponchatoula, La.
John Masek, Bearing Service, Inc. to FIRST Club at Vicksburg Middle School, Vicksburg, Mich.
Attending career fairs and delivering presentations helps build awareness and spread the word about careers in the field of industrial distribution to "right fit" young people and helps these volunteers build awareness for their own companies as a place the best and brightest may start and enjoy a long and rewarding career.
In addition to helping volunteers be visible at high profile career events in their own communities, ICP staff also recently attended CareerTechVision, the annual meeting of the Association for Career and Technical Education (ACTE) in Las Vegas. The event was attended by over 5,000 educators and administrators, of which about 200 visited the ICP booth to learn how to help students find rewarding careers in the field of industrial distribution.
In addition to providing visibility about entry-level careers in industrial distribution, ICP develops and delivers useful programs, services and tools to help industrial distributors recruit, hire, onboard, manage, train and retain entry-level employees. There are many resources available to member companies of ICP Alliance Partner trade associations such as the free "Find-an-Intern" directory at IndustrialCareersPathway.org/FindAnIntern which companies can use to identify schools with student internship programs.
Industrial Careers Pathway is a multifaceted North American workforce initiative supported by an alliance of industry associations including American Supply Association, Heating Air-conditioning & Refrigeration Distributors International, Industrial Supply Association,
National Association of Chemical Distributors, National Association of Electrical Distributors, NAHAD—The Association for Hose & Accessories Distribution, NIBA—The Belting Association, North American Building Material Distribution Association (NBMDA) and PTDA Foundation.
ICP links students and job seekers to career paths in industrial distribution and manufacturing through partnerships with local educators and employers. For more information, visit IndustrialCareersPathway.org/Hire, contact ICP at info@IndustrialCareersPathway.org or call +1.312.516.2100.