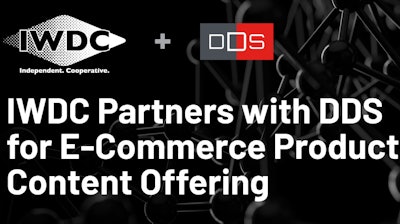 INDIANAPOLIS — IWDC, the largest member-owned purchasing and marketing cooperative serving the North American industrial gas and welding industry, announced a strategic partnership with Distributor Data Solutions, the wholesale distribution industry's leading product content solutions provider.
"We are pleased to announce this long-term partnership with DDS, a proven leader in product content supply to fuel e-commerce and other digital marketing needs," said IWDC President and CEO Frank Kasnick.
According to Kasnick, one of IWDC's highest priorities is helping its member distributors better serve customers through access to more and higher quality digital product content from its vast network of manufacturers. Partnering with DDS brings a suite of technologies and processes that benefit companies on both sides of this exchange, which ultimately ensures end-user customers can find the critical information they need to research and make purchasing decisions.
"Our co-op members will get the benefit of DDS' user-friendly content management solution, CONTENT/io, and their extensive and growing product catalog, combined with IWDC's sourced and enriched product content," said Kasnick. "We're calling our combined offering the 'IWDC Product Content Hub, Powered by DDS.'"
"We are looking forward to collaborating with IWDC, a premier group and a formidable partner in the gas and welding vertical," said Matt Christensen, president and co-founder of DDS. "We will work closely to grow manufacturer cooperation and leverage IWDC's industry experience with our automated processes and integrations to raise the bar on our collaborative content delivery and management services."
Member distributors interested in the IWDC Product Content Hub, Powered by DDS, as well as manufacturers looking to participate, should visit www.distributordatasolutions.com/iwdc.